Paul wrote:
When are we shock tuning?!
All summer long.
Update time!
Backtracking to last September, Winton headed up to BC for a bit, and brought back two bear and a moose. Dinner at the shop is always something to look forward to!
Over the next few weeks I worked solo on the build focusing on getting the wiring pretty much all ran and laid out. For chassis grounds, we TIG welded small pieces of stainless to the chassis, and then tapped them for a 5/16 and #10. These will provide a good common ground, while also minimizing any corrosion.
One solid night was spent planning out the wiring for the switch panel, and another night was spent executing said plan.
Connected the power from the breakers, and then connected the accessory leads. Both wiring looms are ran through Weatherpack connectors, and can be unhooked to disconnect the switch panel for easy disassembly.
Then came the extremely stressful moment of powering everything up for the first time. Success!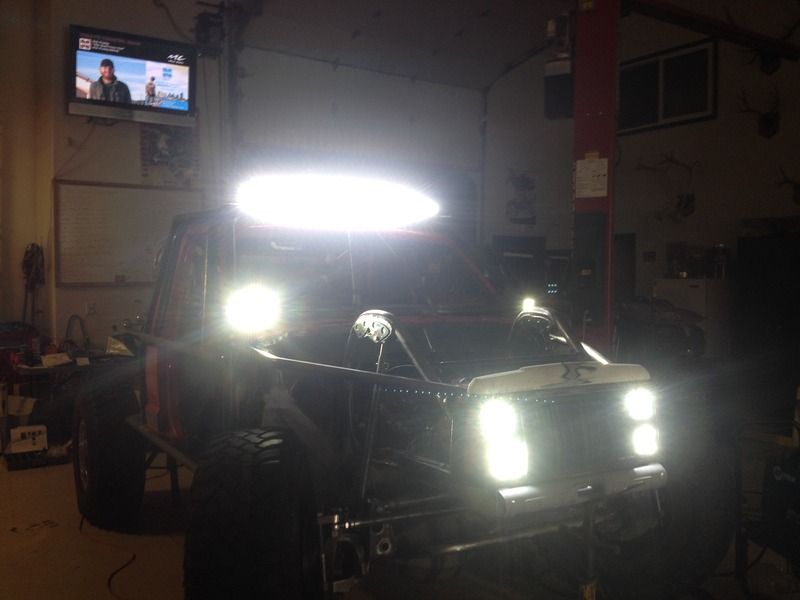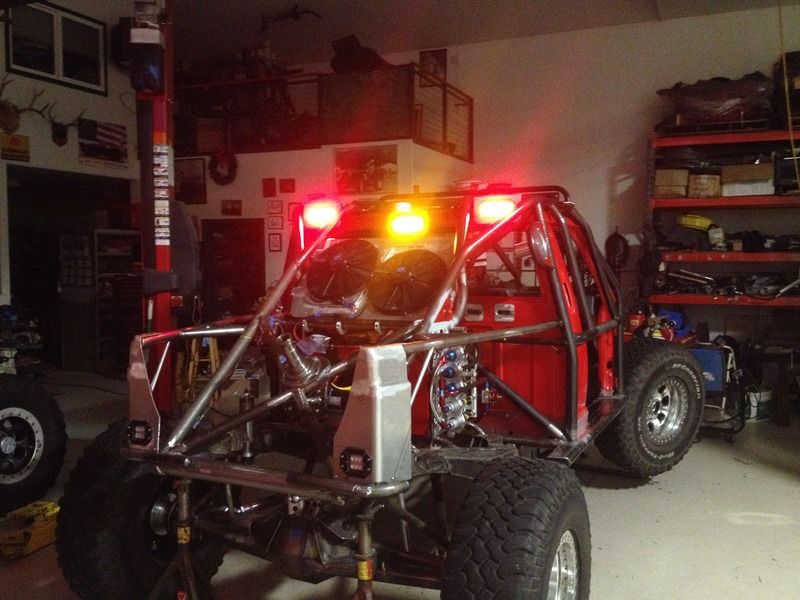 Soldered up the gauge wiring, and added some Weatherpack connectors. Just need to plumb in the senders, and we'll have the gauges up and running.
November at the shop had the MJ back on stands. We decided it was time to yard out the axles for final welding.
We slid the alignment bar through the axle to try and minimize warpage of the housing. Even with the solid bar they did twist on us. We played around a little bit with heat and force in strategic spots, and got both housings dialed in good.
After a bunch of thought and brain storming, Winton decided to build the exhaust in house. Farming the job out would take time away from the build, and bring compromises. We knew this truck best, and knew what we wanted done with the exhaust.
Our aftermarket center dump headers weren't going to work with the starter, and our stock manifolds dumped too far rearward. Winton then came up with a plan to essentially build custom manifolds for our application. These use 1.75" stainless off the block, and dump into a common 2.5" stainless tube. While they might not be your run of the mill aftermarket header, they suit our needs and space confinements perfectly.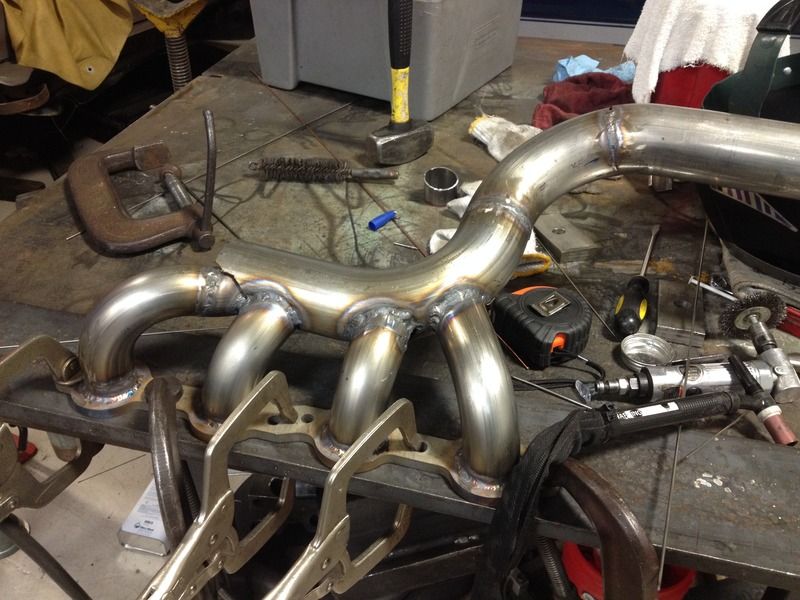 Winton TIG welding on the V-band clamps that connect the exhaust sections.
Overall the exhaust on this build turned out amazing. It hugs the frame tight, doesn't hand down, and looks awesome. No cross over pipe in the front to deal with, just single pipes down both sides exiting through two Borla stainless bullet mufflers. Can't wait to hear the LS sing.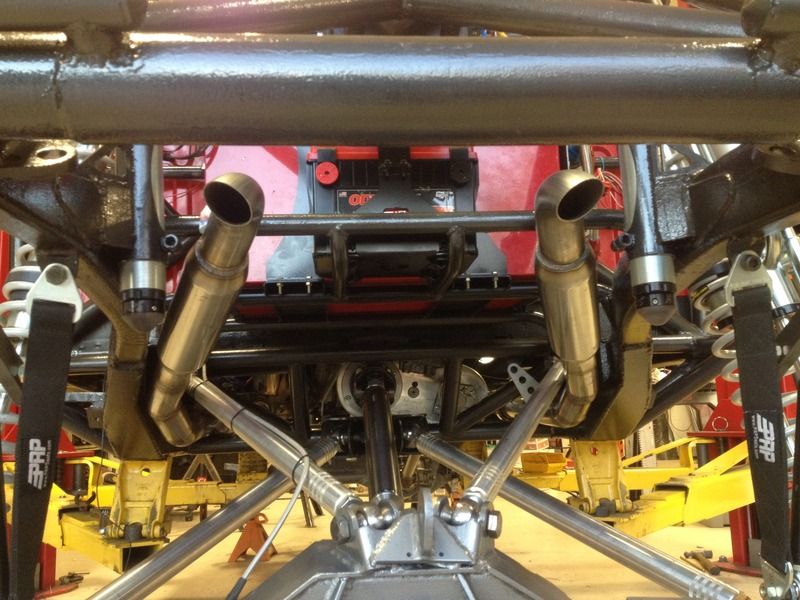 In the above picture you might have noticed our new 7075 solid aluminum links. Mike at Crossed Up Customs had been a big help on the build, and offered to help us out with the links. We gotta try and save weight where we can on this pig.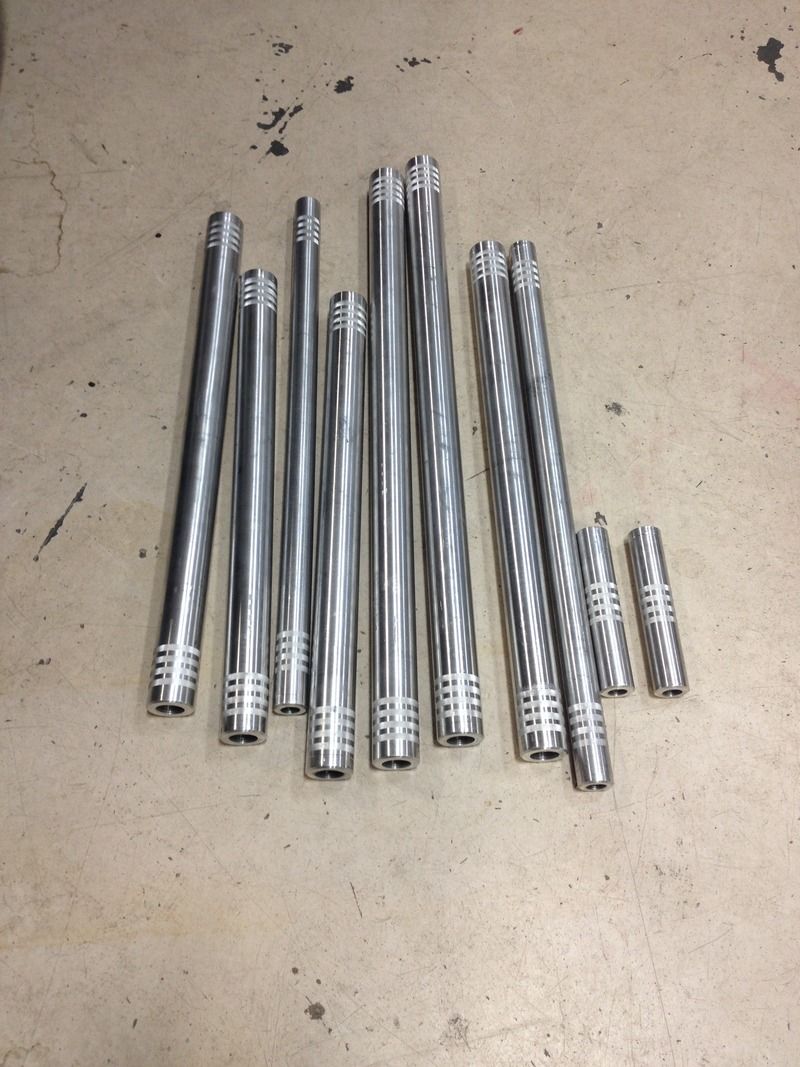 #Racecarz.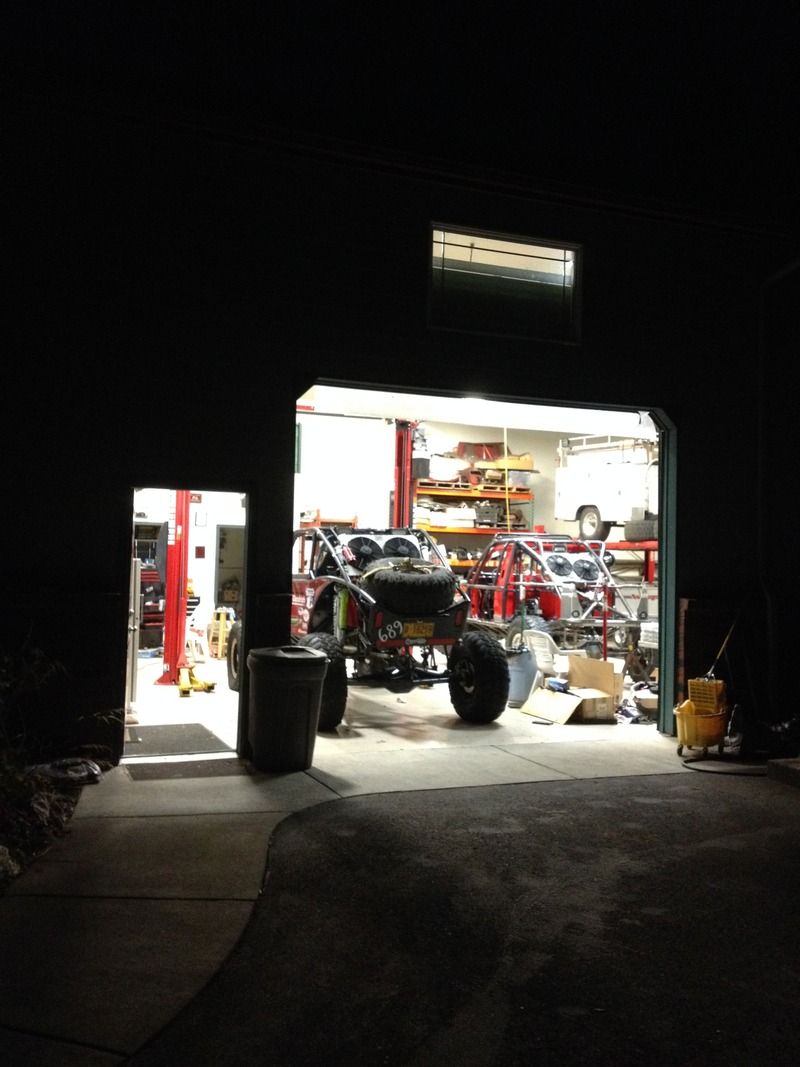 Steering has been an on going project for several months. We called up Jeff Howe, and picked his brain on the ideal setup for the 4500 class. For the pump, Jeff recommended using a Trophy Truck series pump. A power steering system ultimately comes down to flow, and these pumps deliver. We got the pump from Jeff, but quickly found out Howe's bracket wasn't going to for us (this isn't a trophy truck). We reached out to Drew at Goatbilt, and got Drew on board with prototyping a LS based bracket for this pump. By the end of summer we had our monster pump mocked up. Drew also hooked us up with one of his alternator relocation brackets as well, which mounts our alternator up top on the passenger side out of harms way.
In combination with the Howe's Trophy Truck pump, we're running a 2.5" double ended ram for assist duties out front. We still have our Howe modified Scout steering box to stay class legal, which is connected via mechanical linkage through the drag link.
We built a ram mount on our front axle, doubled up the wall thickness on the outer edge, and added some sweet 7075 aluminum tie-rods to the setup. We tried not to cut corners on the steering as it's a critical system that can end your day quick if it's not up to par.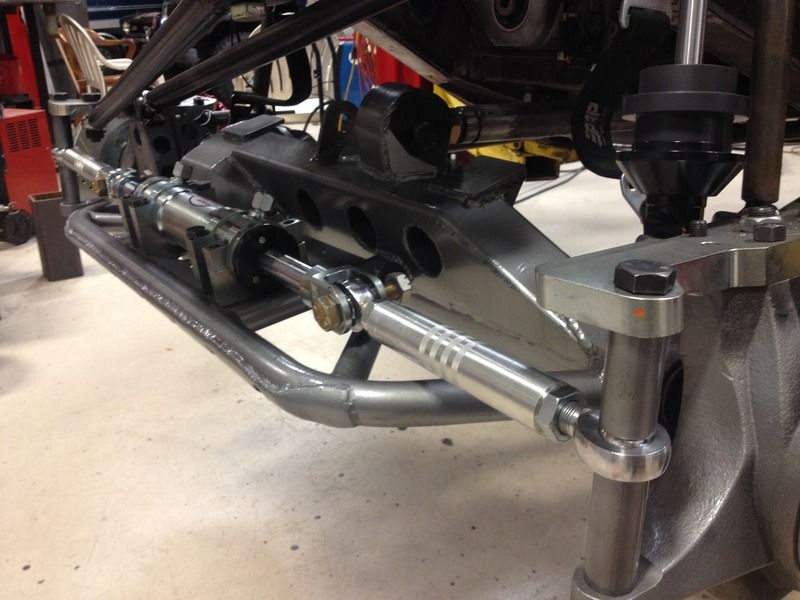 After the box, the fluid is ran through a remote filter.
Howe also recommends a pressure relief valve with this setup, which should hopefully prevent any hyrdro-lock issues running at speed.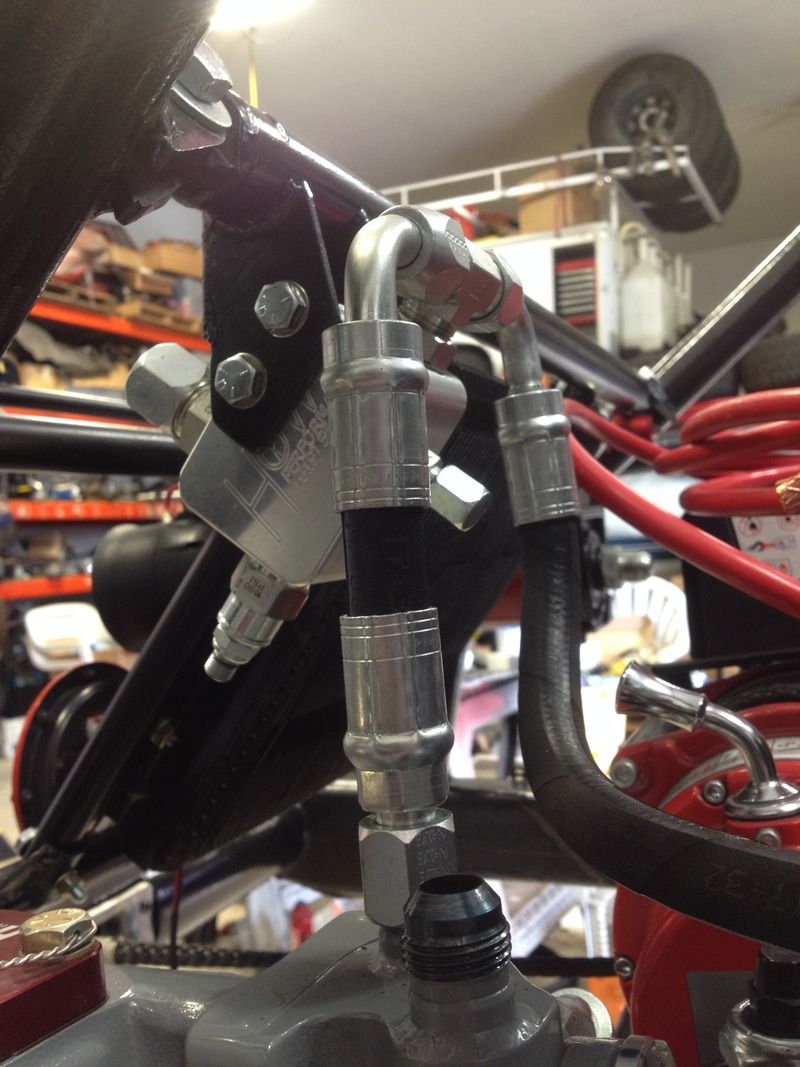 After getting our steering pretty much completed Winton and I put in a late night at the shop trying to tie up some loose ends to get the car ready to go in for plumbing. Oil Filter Service in Portland offered to let us bring in the car to plumb the brakes, trans, radiator, and steering. Much easier than making 37 trips back and forth for fittings. They saved us a ton of time, and really helped us out with the plumbing on this project!
Back from plumbing we tore back into it on the lift.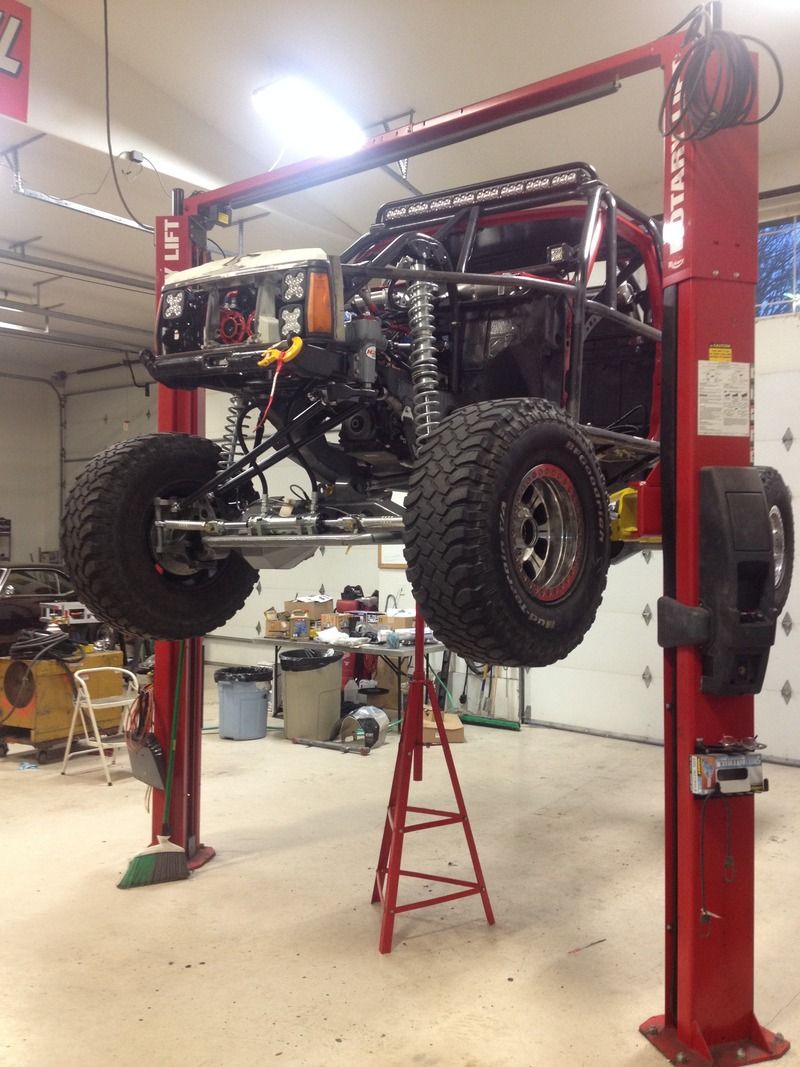 Out with our mock up transmission, and prepping for final install of our ready to run transmission packed with some billet goodies and a custom A1 torque converter.
Here you can see our mid-plate mounts in, transmission in, drive line on with pillow block mounted, exhaust in, and a whole lot of painting got done. Suddenly all that space we started with was now non existent. However, the extra time we spent to make this thing easy to service sure paid off.
One of the few remaining fab projects was our boat side armor. We chose to use .125" Hardox hardened steel plating. We've been running similar stuff on our #689 Ultra4 car with great results. This stuff is not fun to drill or cut, but we managed to get both our boat sides bolted on. We could have welded them in solid, but we liked the having option of not running them for races such as Vegas to Reno where they just aren't needed and tend to pack full of silt.
It was around this time when we left MJ behind, and headed down to KOH. While it was disappointing not having the MJ there, KOH is a total blast regardless. Here's a few pictures from the trip...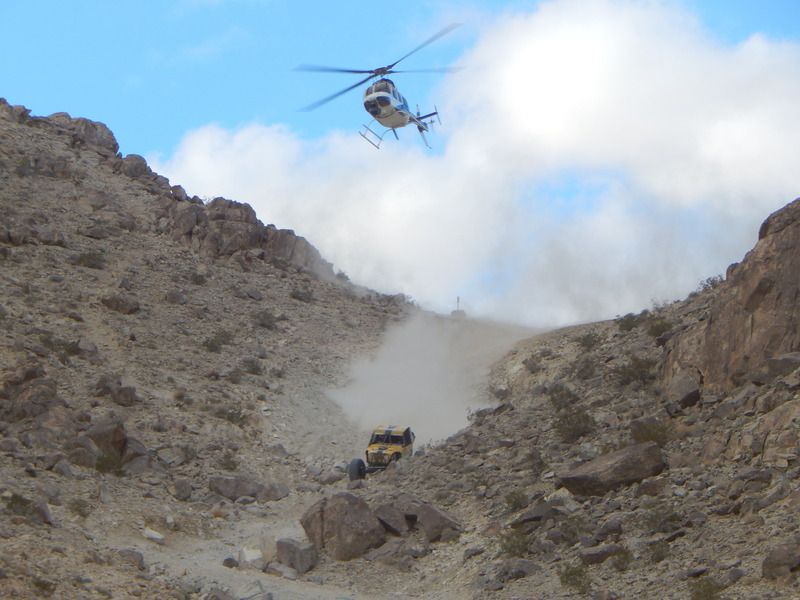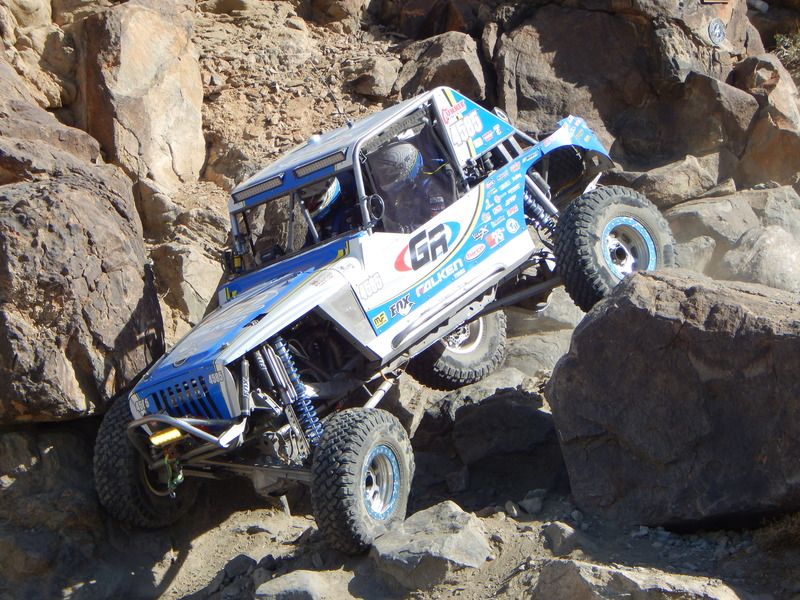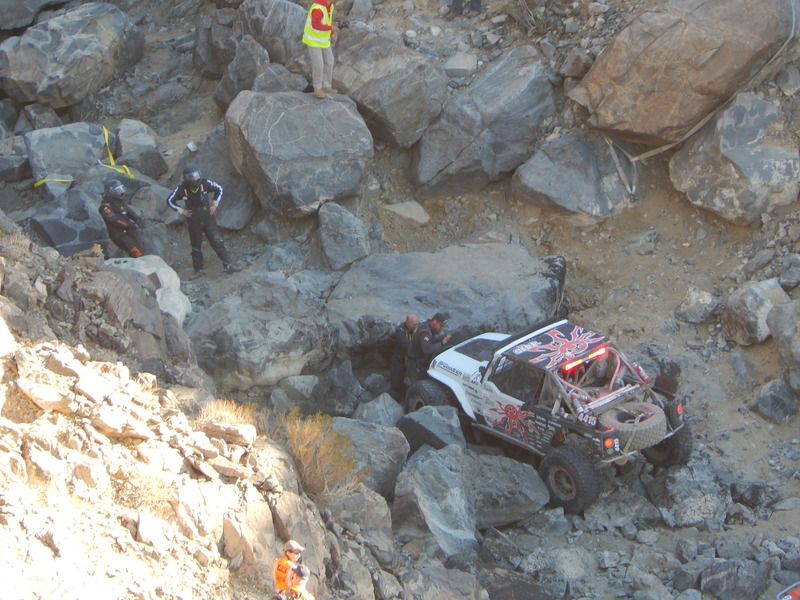 After getting back from KOH Winton and I had some new motivation brewing. I walked into the shop one day to find a stack of new tires. General Tire got on board with the build, and helped us out with some new shoes. These are 37x12.50R17 General Grabber's, which should be available to the public shortly. They're a proven desert tire, we'll see how they hook up in the rocks.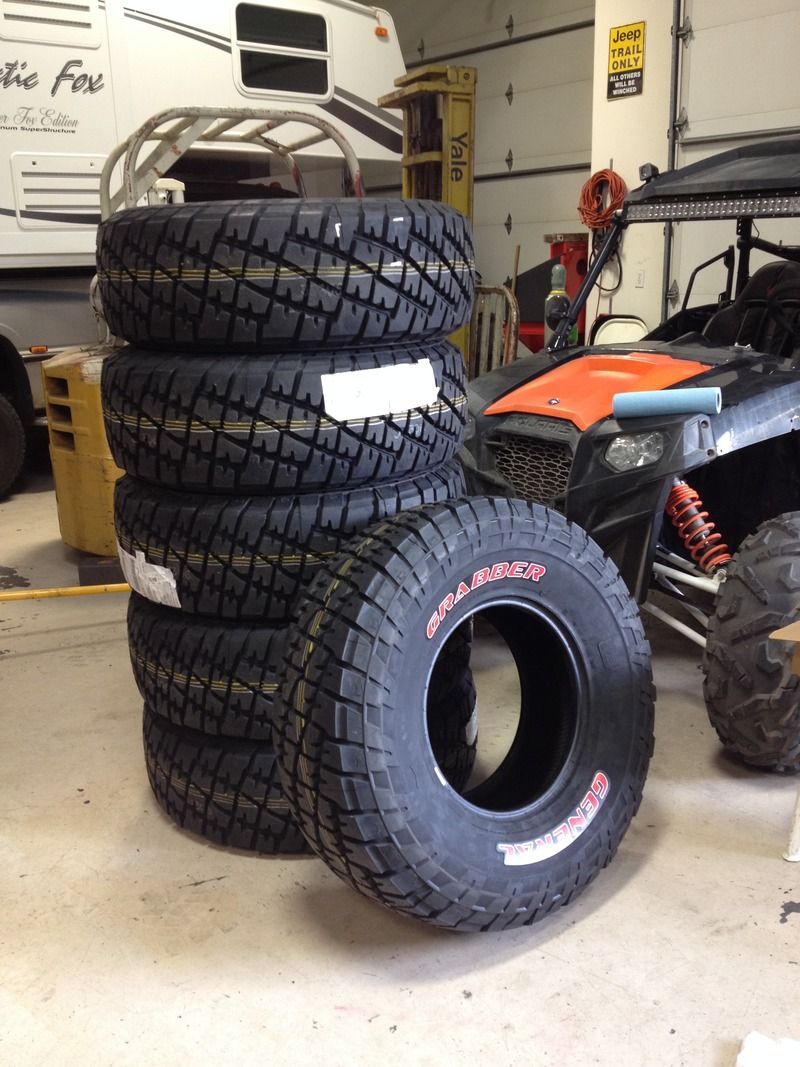 Even color matched for the truck.
Pulled the axles one final time for final assembly. Winton machined this slick aluminum puck that slides into the inner axle seal, and allows some threaded rod to pass through. You can then use the threaded rod to easily pull the seal into place.
Front axle all painted up and Yukon third member bolted on with a Lube Locker gasket.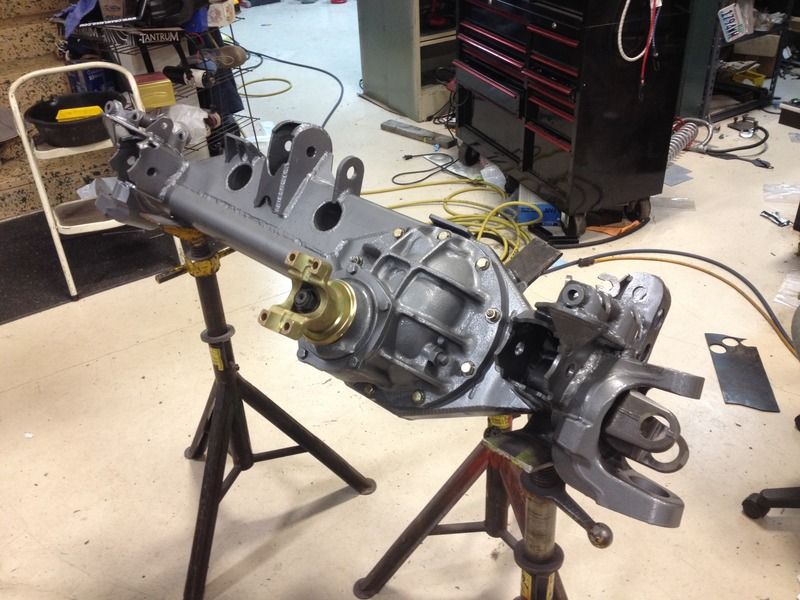 Joey swung by the shop one day, and assembled our Yukon 35 spline shafts (machined by Jantz) with our Yukon Super Joints. It's going to be a peace of mind knowing these are in our front end.
That's pretty much where we're at to date. Right now we're mainly focusing on final assembly. We're taking care of a lot of miscellaneous painting (it never ends!), getting the correct bolt lengths and fasteners, final adjustments to the interior tin, and hopefully wrapping up the last of the wiring.
This thing should be making noise and moving here in the next month or two. After we reach that milestone, we'll wrap up the last few fab projects such as the belly skid, and skin work. Goal is to be racing the 1000 mile Vegas to Reno race in August. We'll see if we can get the new car bugs worked out of it by then, and if Paul and Kevin can work their shock magic on it a time or two.