Sorry for the lack of updates, folks. Here's an update to get this thread back on track.
At the beginning of the year we chose to put the 4500 build on the back burner while we turned our focus to prepping the POR Wheeler's Racing #689 car for King of the Hammers this year. A lot of prep work went into it, but in the end we were all confident we had a reliable car heading into the race.
Here's a few pictures from my time down at KOH this year. Good times with the POR and Stag Camp crew. You can read the full trip report here,
http://www.naxja.org/forum/showthread.php?t=1109571
.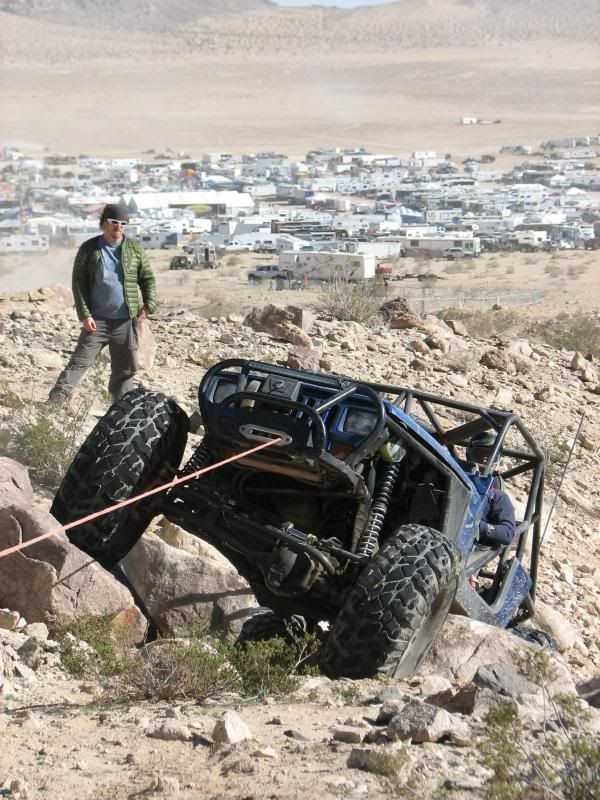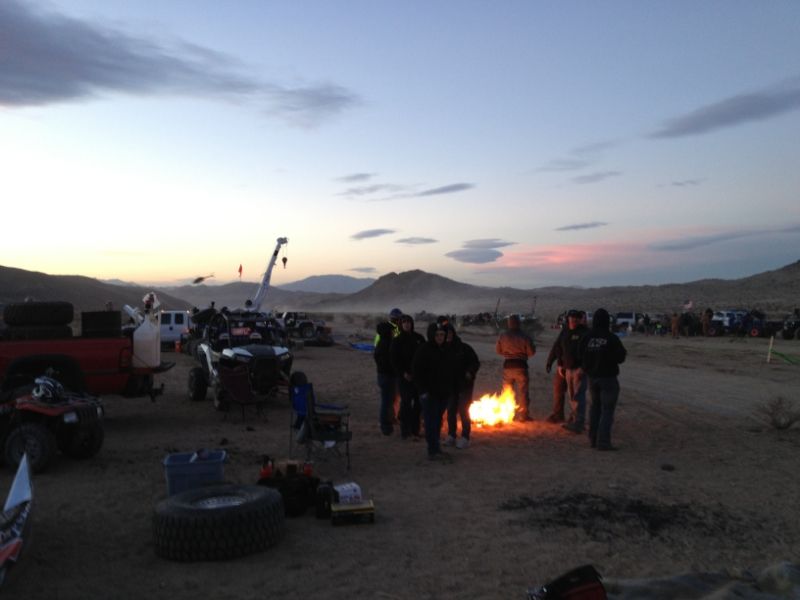 After returning from KOH we took a few weeks to get back into the groove. However, most of the 4500 crew had plans to head down to Easter Jeep Safari this year in April. That meant taking some time to finish some projects on their own rigs. Winton added hydro assist to the LJ, and Ted started his 5.3L swap in his YJ. Needless to say work on the 4500 MJ was slow during this time.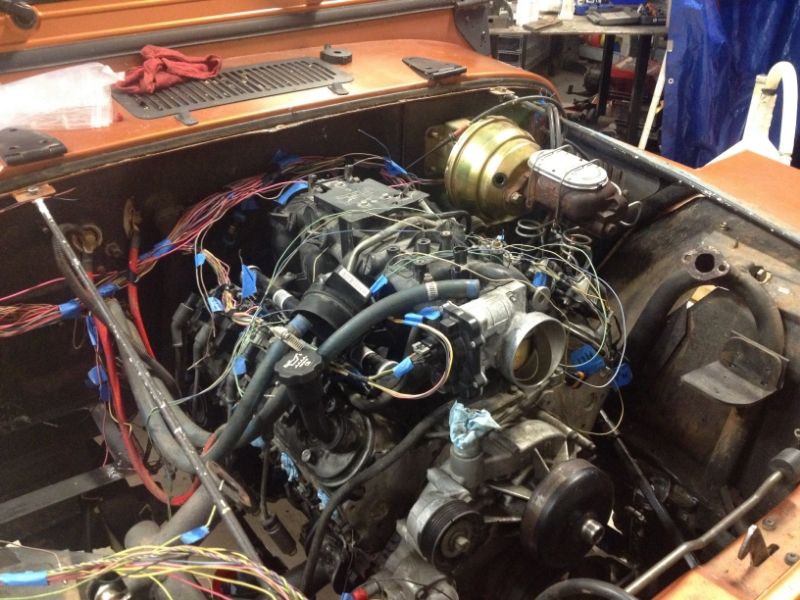 One of the big changes during this time was changing from a double triangulated front suspension to a three link with track-bar. Our main reason for doing so was because we'll be running mechanical steering on this car (per 4500 rules). With mechanical steering and no track-bar we'd likely see a lot of bump steer in the go fast sections. We feel a three link and track-bar will fit our needs better. Ted crunched some numbers and we had our new single upper link mounts tacked into place. We'll be running 1.25" heim joints on both the lowers and the upper.
Moving forward with our front axle, we needed to figure out a stout solution for mounting our coilovers and bypass shocks. We decided to combine two Artec lower mounts into one, which would then create a flat surface for our shock mount.
For the shock mount we again combined two brackets to suit our application, and mounted it on top of our lower mount.
This allows us to tie pretty much all the brackets together into one solid mount, and finishes the axle off nicely.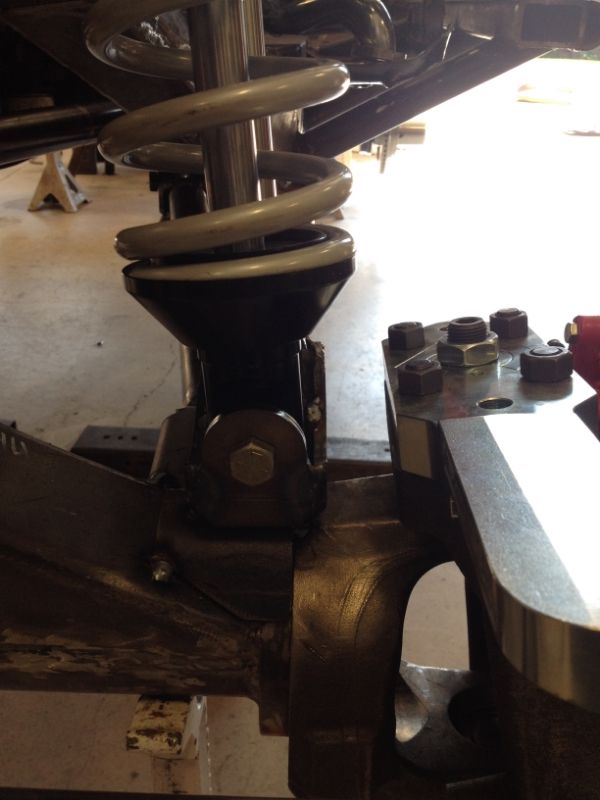 For our brake setup we chose to machine down our caliper brackets to work with some off the shelf axle mounts.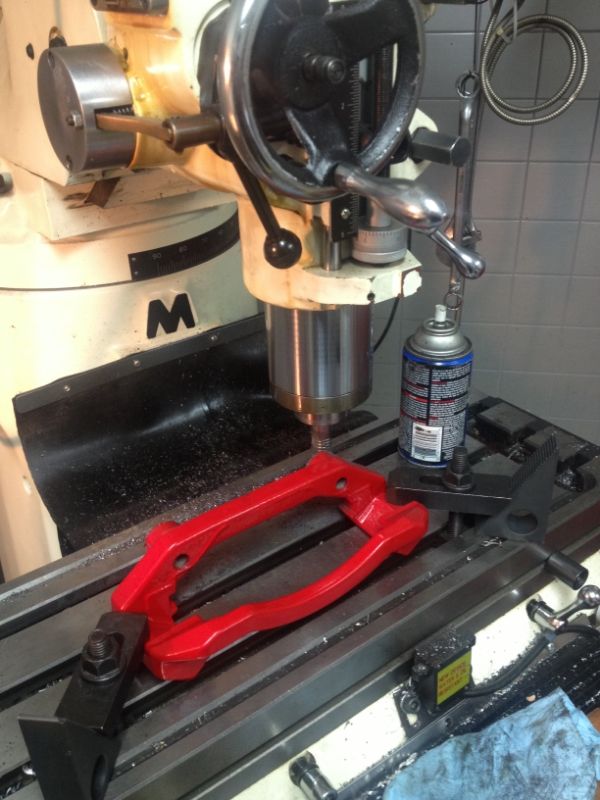 This centered up pads on the rotor. The calipers are ~07 Dodge 1500 units, and are a pretty slick design allowing pad changes without completely removing the caliper. Not to mention they are huge.
Next task was dialing in our steering. We'll be mounting our tie-rod in double shear so some spacers were machined on the lathe.
Combined with Artec Hi-steer arms and Solid Knuckles the steering is pure beef.
We pulled the cab off to finalize the suspension mount, and to take our motor in for some dyno action.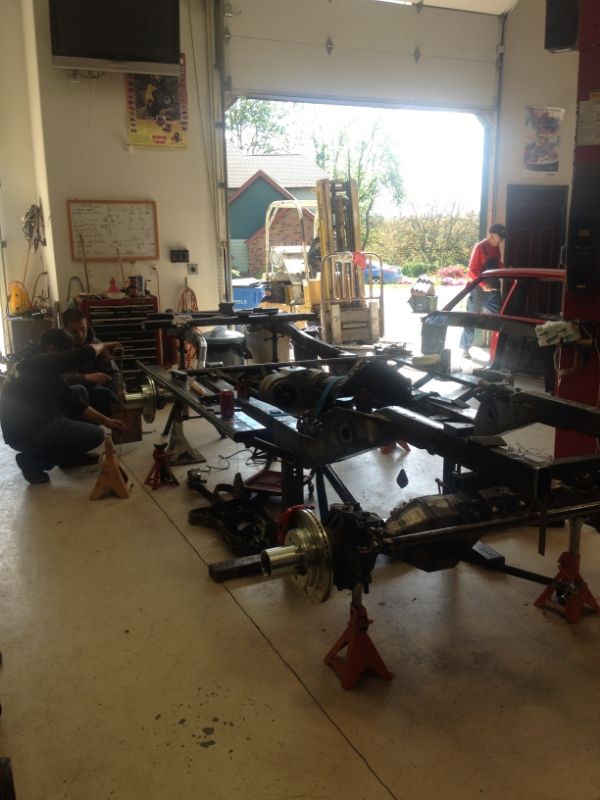 Motor mounts are in their early stages.
Winton gluing our rear axle shock mounts together.
Shock mounts and lower link mounts in place.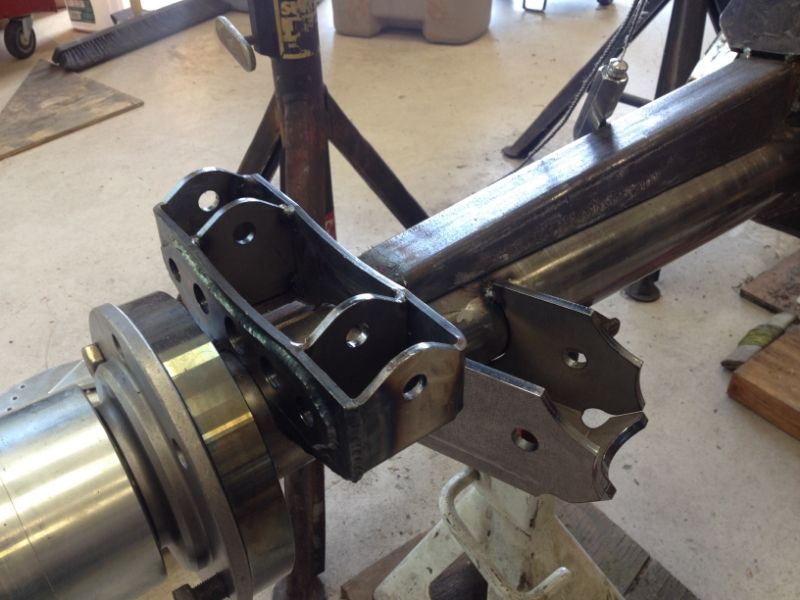 With the mounts figured out we measured for link length, and mocked up our rear four link. 2x.250" DOM on the lowers, and 1.5x.250" DOM on the uppers. We'll run these links while we dial in the car, but eventually will switch to 7075 solid aluminum.
Driveshaft clearance was a concern with the rear lower frame side mount, so we adjusted our cross-member height for clearance. We found that the cardon joint actually doesn't move a whole lot throughout our range of travel.
Moving back to the front axle, we began to brainstorm just how we were going to tackle our track-bar situation. Suddenly space was hard to come by at full bump. Don't judge our mock up flat pitman arm.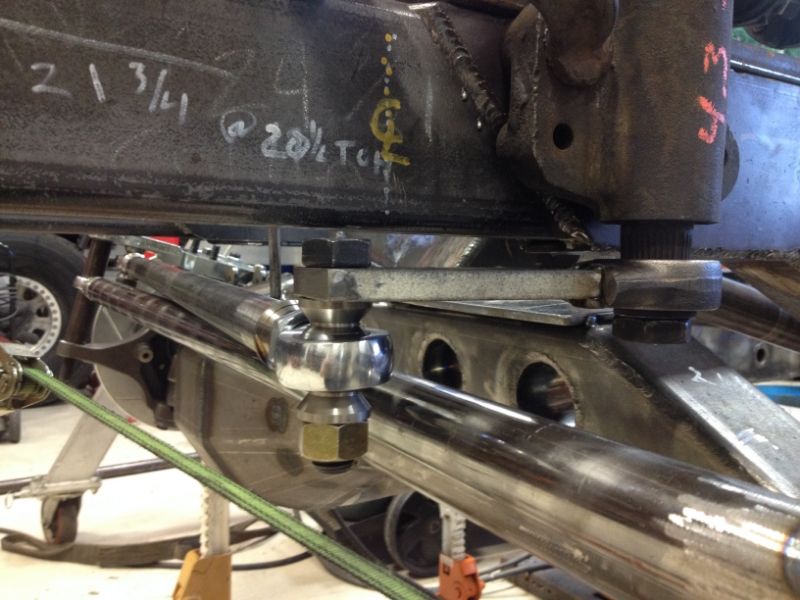 With our Scout box mounted outside the frame rail, we have a draglink length of 39". This means we need to somehow get our track-bar as close to this length as possible to ensure it swings in the same arc preventing bump-steer.
At full bump (7.5" of uptravel) we had ~1.25" between the frame and truss. We could have worked with this, but jack stand clearance and racing clearance are often two different things. We decided to notch the front frame to gain an inch of clearance for the track-bar and steering.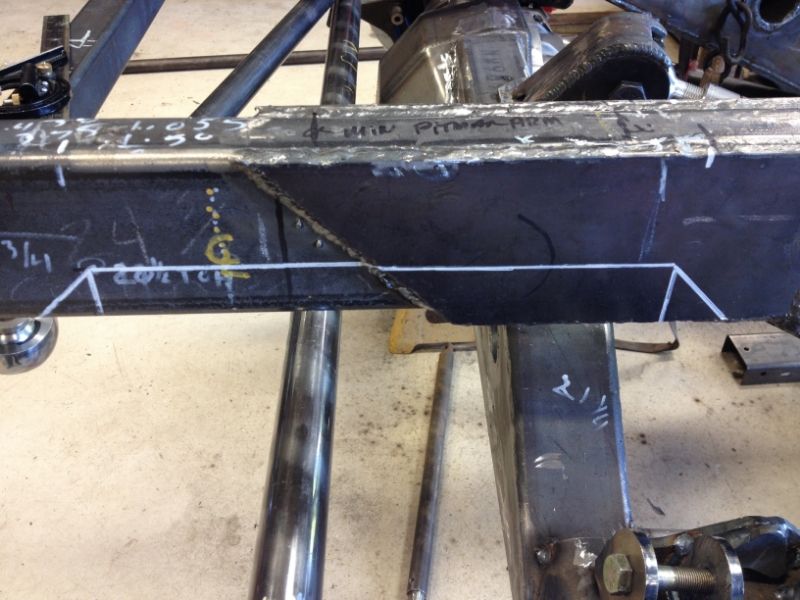 Burned it out.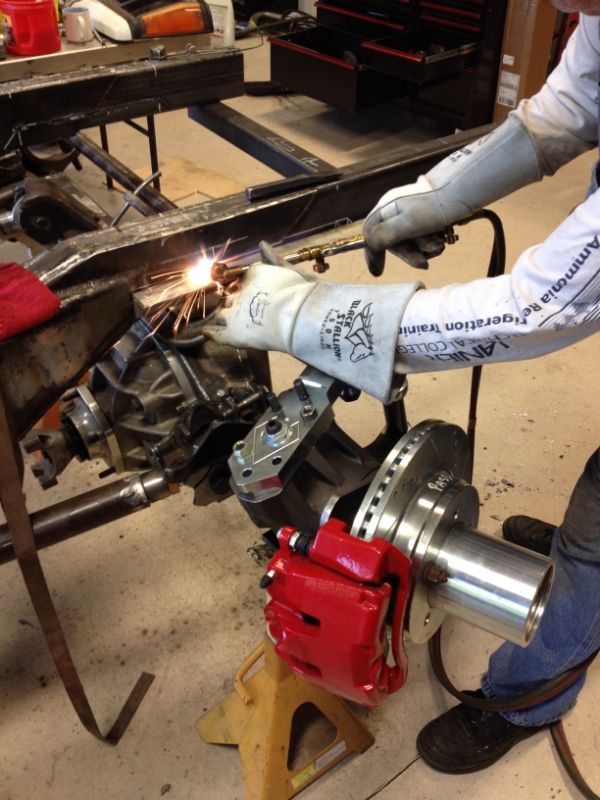 We capped the bottom with the same ends of the same 4x2 material creating a smooth radius around the notch. All cleaned up. We might be able to squeeze a full 8" of uptravel out of the front.
We're back to cranking away on the build now, and progress seems to be moving along steadily. I'll try and keep this updated as we move forward. We're staring to discuss cage design...