Still plugging away at this when time permits. We've had some awesome weather lately, so it's been nice to have all the garage doors open and not be freezing.
Maxx @ Northridge hooked me up with a smokin' deal on some Allied steel beadlocks. I was considering Trail Ready's or something like that, but I felt like the steel wheels fit with the simple and strong direction of this build. 17x9.5 in 5x5.5 with 3.5" BS.
I got the Waggy springs on all four corners and as expected, the steering wasn't happy about the ~3" reduction in ride height.
Picked up a stock CJ pitman arm, which is totally flat, and that fixed the clearance issues. I also have a MORE steering box relocation bracket that I need to install and that will clear up any draglink vs tierod issues.
Here's the next issue with the steering. I have the Teraflex highsteer knuckle and with being SUA, I can't run the tierod under the knuckle because it will hit the springs. I can't run the draglink under the highsteer arm because the TRE's hit. I think I'm going to switch out my tierod and build a new one with 7/8 heims. That should allow me to flip it under the knuckle and move down the draglink as well. I may still need a little frame notch to clear the steering at full bump, but that's not a big deal.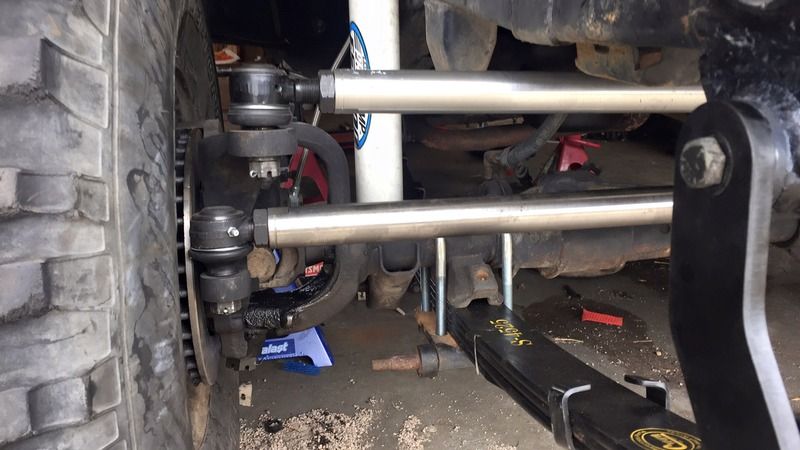 I wanted an easier way to fill my rear 9" and be able to inspect the gears without pulling the 3rd member out, so I ordered a fill plug kit from Spidertrax. They're a local company for me here in Colorado, so I had it 36 hours after ordering.
I found a good spot for it, cut a 1.5" hole, welded the bung in, then painted the housing.
Yesterday I started to cut the front shock mounts off the frame and broke my last sawzall blade
but I was able to finish it off with a cutoff wheel. I'll finish the cutting them off and cleaning up the frame later this week.
Mocked up the shocks to measure for towers, probably going to order a set of RuffStuff 12" towers. Yes, I am going to relocate those brake lines.
Today I installed my Brown Dog 1" lifted motor mounts and a JKS 1.25" body lift.
I don't think the body mount bolts had ever been out before
And this is the main reason for the motor mount and body lift. Very close to having a flat belly on this turd.
_________________
trophygirl wrote:
The price goes up for every penetration