It was a balmy 17F yesterday morning, so I decided it was a good time to work in the garage after I found my propane heater. I got a set of four Grand Wagoner front leaf springs that I'll be swapping for the 4" springs that are currently on the YJ. The Waggy springs are 1" longer than YJ springs and give about 2-2.5" of lift over factory springs when used in a SUA setup. The centering pins are also offset 2", so they'll net me an extra 4" of wheelbase for a grand total of ~98".
I picked up a used set of GenRight EXT rear flares off Craigslist super cheap and tossed them on to see how they'll look. I think this is pretty much where I'll leave them mounted, just need to trim back a bunch of the tub. Should give me a fairly balanced wheel well with the small stretch. The 4" lift springs are still installed in this pic.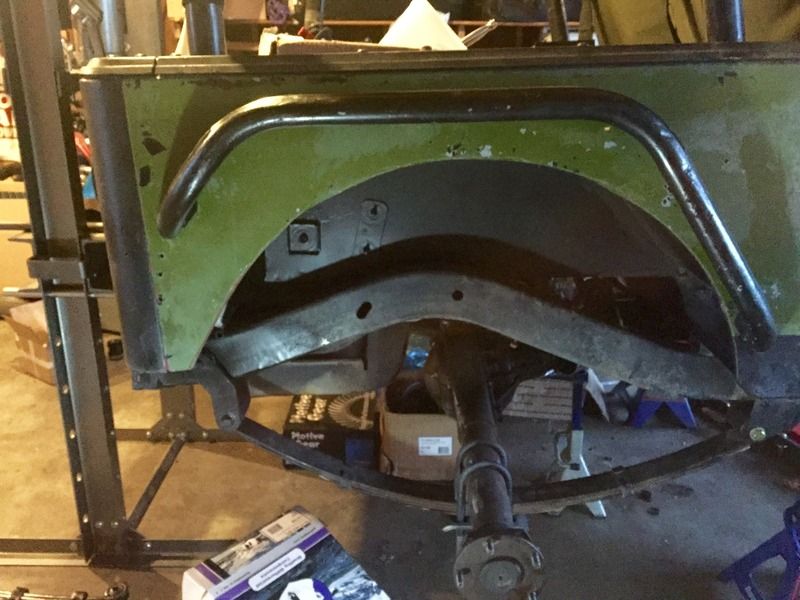 I threw the first set of springs in the rear, but then realized that I need to drill out my spring plates for the slightly larger Waggy centering pins. I couldn't find the right bit for that, but I did at least get the rear housing sitting on the springs. I'll definitely need to do a little gas tank clearancing to clear the axle with a 2" stretch.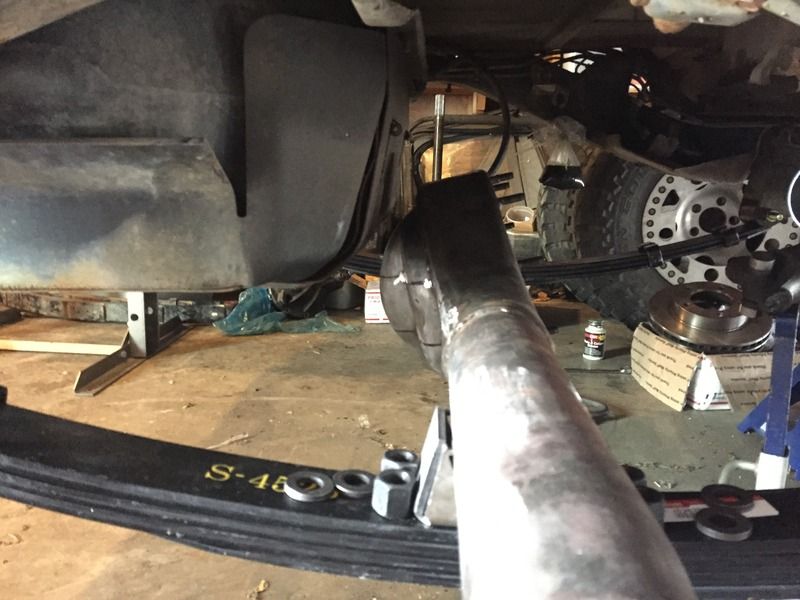 Since I couldn't get any farther with the new springs, I decided to start something I've been putting off for a while, building my first 9" 3rd member
I got all this stuff sometime near the end of the summer and have spent a bunch of time reading books and watching tutorials on setting up axles, so I was only mildly worried about ruining a bunch of expensive stuff.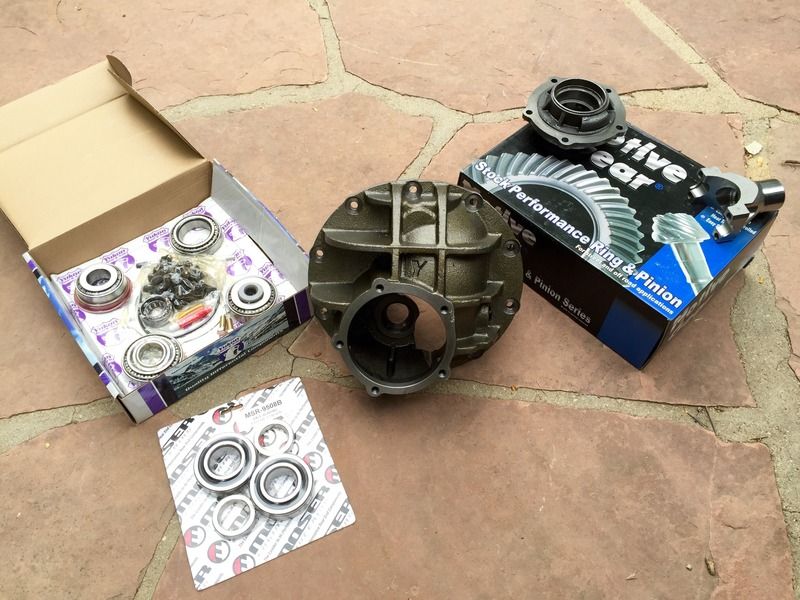 The Detroit locker for the build was used, so I got started by pulling the old carrier bearings off and pressing on new ones.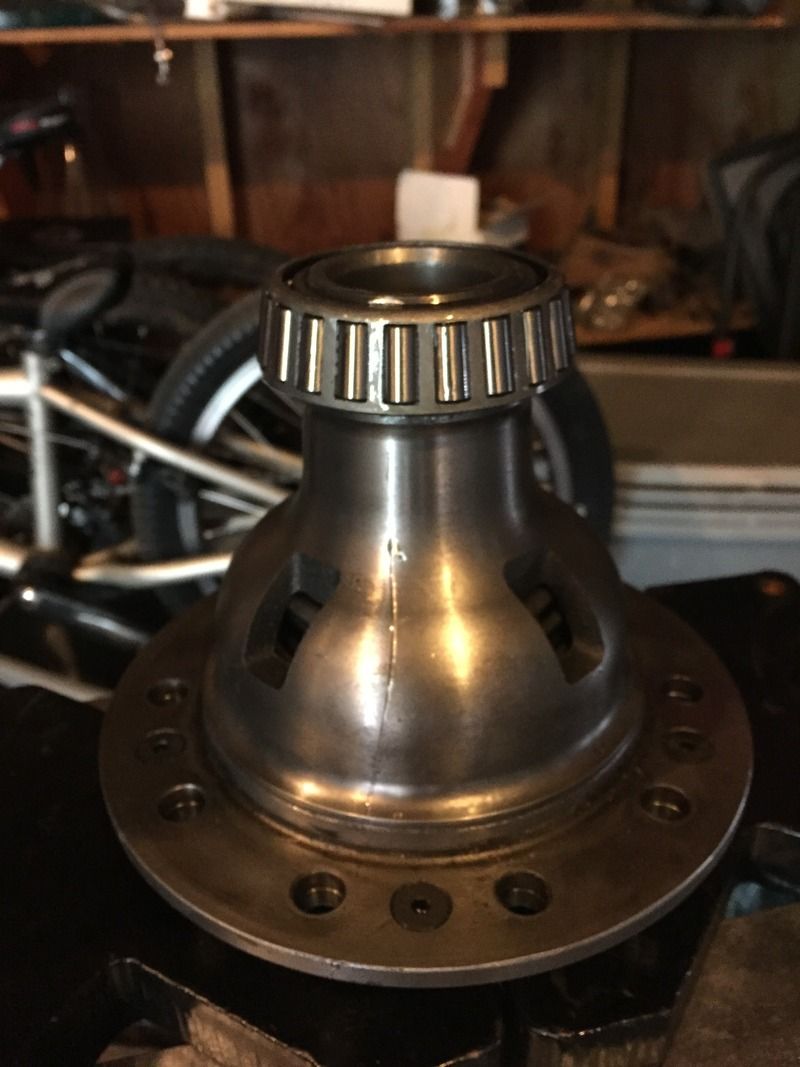 Next I installed the ring gear on the Detroit. The Yukon master install kit comes with two different lengths of ring gear bolts and a quick message to Larry confirmed that there are different lengths work with different manufacturer's carriers. His sagely advice was, "Use the ones that don't bottom out." FOP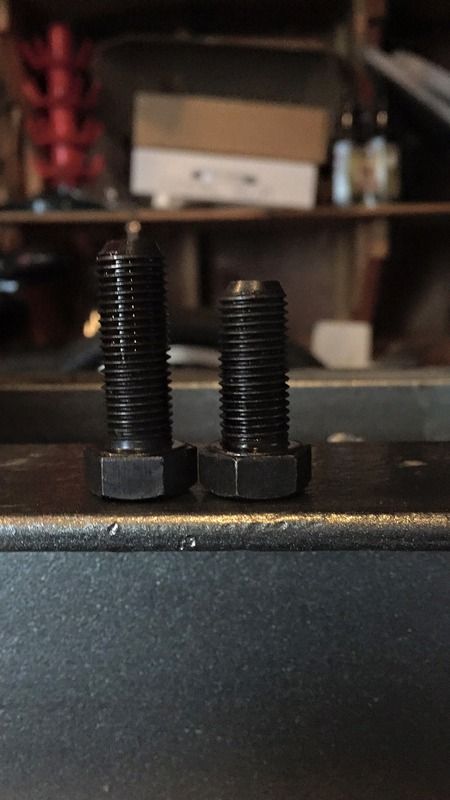 I applied some Loctite to the ring gear bolts and then slowly tightened them, pulling the ring gear up evenly until it was sung against the carrier.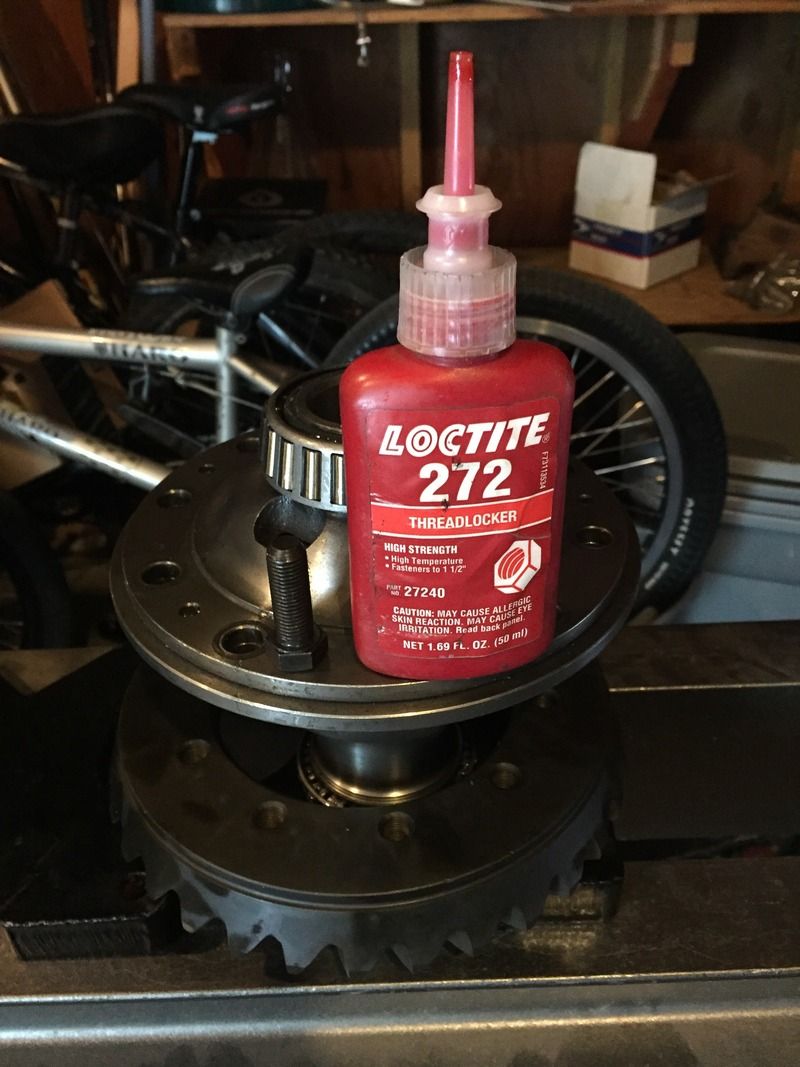 At this point you need to torque the bolts to 65ft/lbs and the carrier needs to be held stationary while you do it. I had forgotten to ask around to see if anyone had a broken 35 spline shaft that I could make a tool to do this with and I couldn't come up with a good way to clamp the carrier in my vice without damaging it. Then I had a great idea, I bolted one of my rear axle shafts onto a wheel and tire, then I slid the carrier onto the end of the shaft. With all 170lbs of me, plus the wheel and tire weight, it didn't move at all and I was easily able to get the bolts torqued. A little ghetto, yes. Successful and would recommend to a friend, hell yes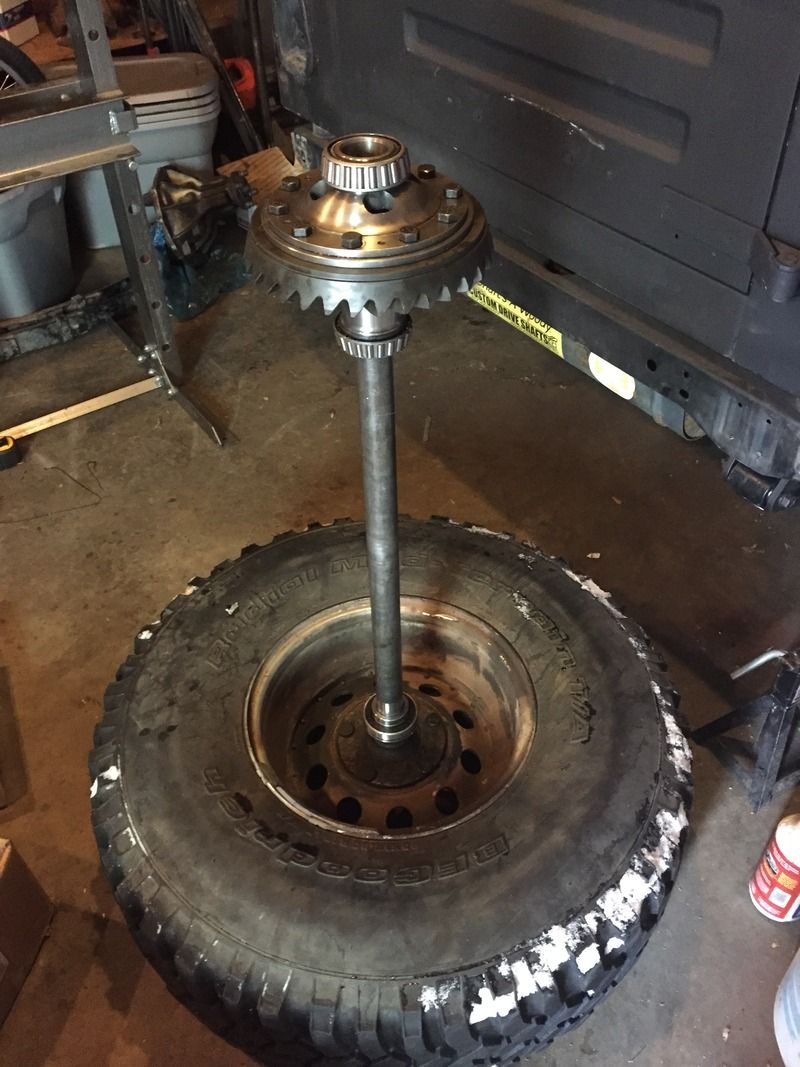 Next I started assembling the pinion cartridge. The first thing I did was press the bearing races into the Daytona style pinion support.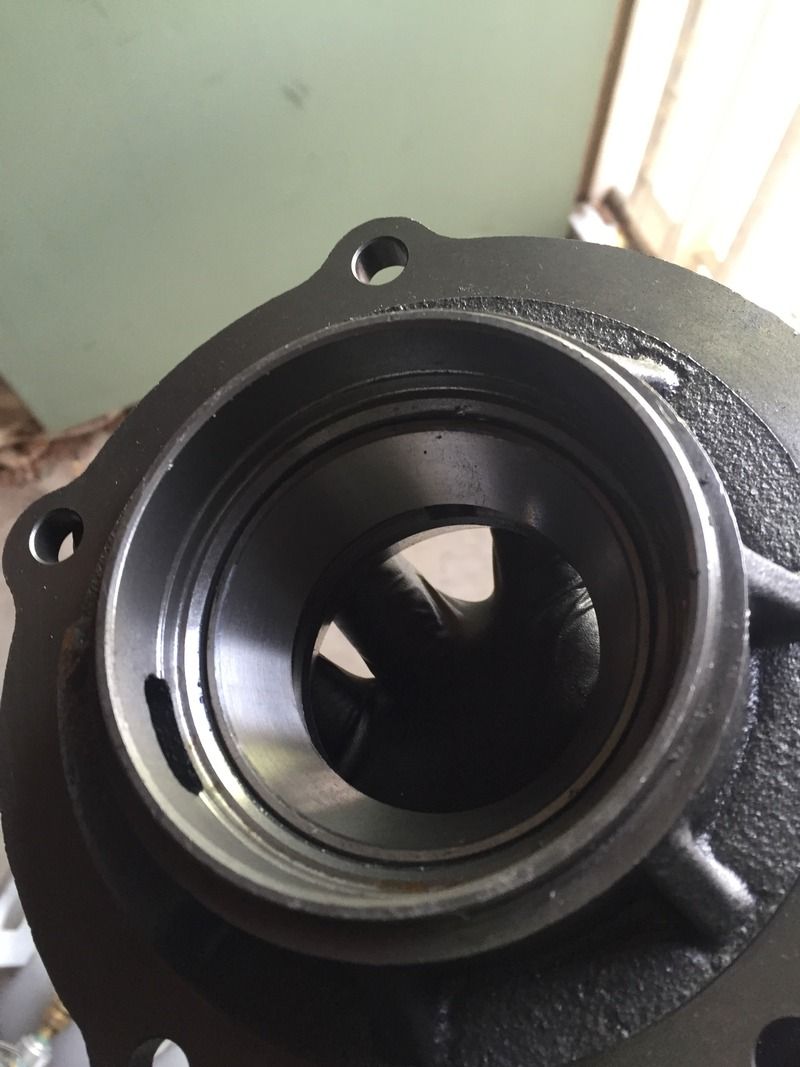 Then pressed the larger of the two pinion bearings onto the pinion, but didn't take a picture of that. At this point you drop on either a crush spacer or, like I'm using, a solid pinion spacer. The solid spacer is actually a two piece design that splits apart and that's where you put the shims to get the correct bearing preload. My solid spacer looked weird and I couldn't find any info online about which way to install it. One end is flat and the other end is tapered, so another phone call to Larry and we figured it out. The flat end goes down towards the head of the pinion and the tapered end goes up towards the yoke end. The tapered end prevents any chance of the solid spacer making contact with the bearing cage of the smaller bearing, which would destroy it in short order.
Flat side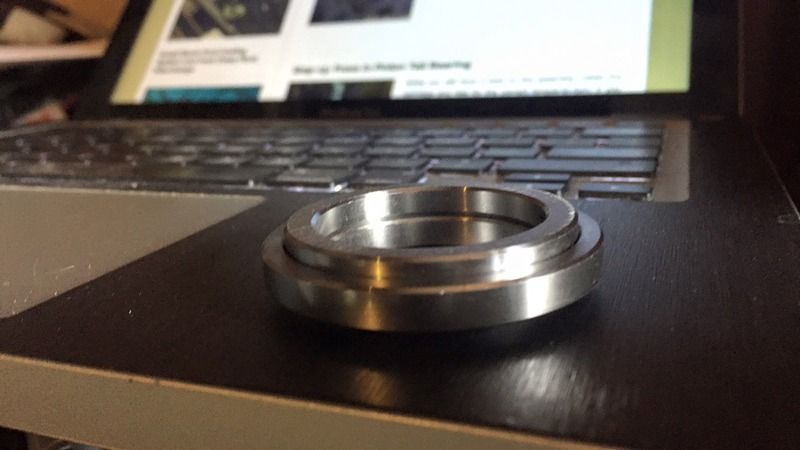 Tapered side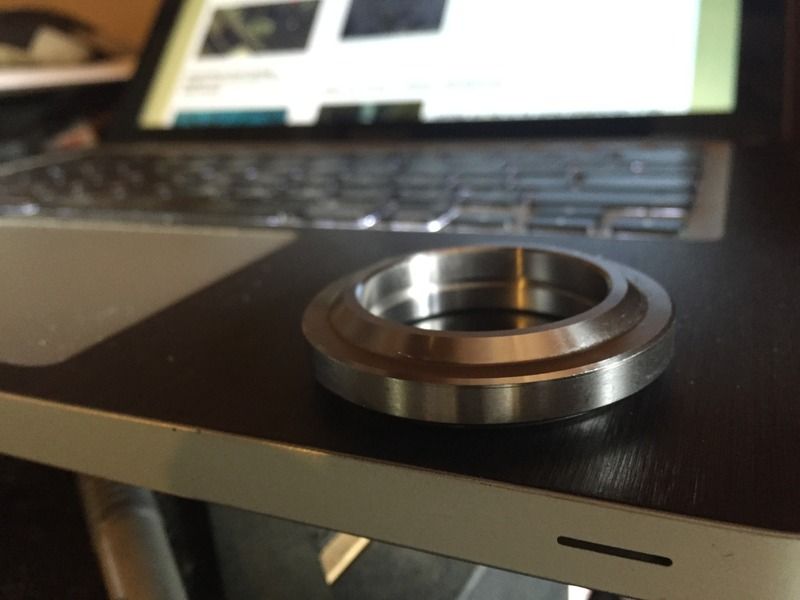 So here's the pinion cartridge mostly assembled. I stopped because I had ran out of propane for the heater and couldn't feel my fingers anymore and also because my yoke didn't come with a dust shield. I'm not completely sure it's necessary, but I figured that I'd ask before going any farther.
Not sure if I'll get anything done today, gotta watch the throwball games and I didn't get more propane for the heater yet. After I finish the 3rd member setup, I'll get the new springs installed at all for corners, install the steering box relocation bracket, 1" body lift, and 1" motor mount. After I get the axles and suspension all setup, I'll install the SYE and build a trans crossmember, which hopefully with the body and motor lift, will let me have a flat belly on this thing.
_________________
trophygirl wrote:
The price goes up for every penetration