Alright so this will be kind of a long post but it outlines everything I want to do.
First off, let's start with the front axle.
Polish the turd axle build
non CAD HP30, 4.10 gears
cryo and heat treat the gears, carrier, and locker
Spartan
put in the RCVs
Spicer balljoints
Run the ZJ tie rod for now, 1 ton TREs later
possibly use WJ knuckles and brakes, haven't decided
custom truss
Crane diff cover (bought it last night from eBay, brand new)
extended brake lines with 1 man bleeders
I will make sure the gear mesh is set tight and deep in case of deflection. This axle should last, without any breakage, as long as I maintain it. I'll be selling the CAD HP30 as soon as I finish building this new front axle with the 4.10s and LockRight if anyone here wants it for their build. I might be tossing in a Detroit or Grizzly if I can find one used for a good price. I just have to keep my eye out. Also, I'm going to squeeze every bit of steering out of these RCVs.
Tranny/Tcase
np435
AA adapter and shaft
flipped Dana 300, extra shift rail seals
flipped clocking ring
twin sticks
rebuild kits
t176 bellhousing, machine for CPS
4 cyl CJ hydraulics
Novak pilot bushing
decent clutch (haven't decided yet)
I have a little more research to do but I got most of it planned out. I'll be making a custom trans mount with two bushings and some DOM or 2" x 2" square tube. Custom flat skid, UHMW plastic on the bottom to slide across rocks and obstacles. I haven't decided what lower mounts I want to use for my suspension. I'm torn between the Poly Performance low profile mounts or recessing the mounts by cutting the frame and moving it up 1.25". I already have a bent frame in the front so it would be a good time to fix that and do this mod. It's more work but it would be very slick and wouldn't have a single thing to hang on.
Here's a link to what I'm talking about -
http://www.pirate4x4.com/forum/showthread.php?t=894967
They look like this when done, look at the rear mounts and the frame -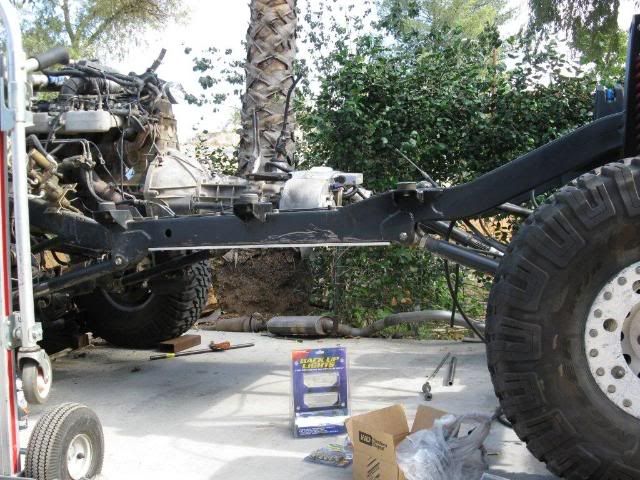 Here's my suspension outline:
3 link front
~26-28" lowers
1.25" Johnny Joints
Gen Right Krawler Joint and threaded mount
upper link on driver's side
uppers will be DOM or 7075, haven't decided
stock or 2" coils
2-3" stretch
4 link rear
~28-30" lowers
1.25" Johnny Joints
triangulated uppers
7075 or DOM uppers
4-5" stretch
I've already bought Heretic fab 4130 links and I'm 99% sure I want to use JJs. For the gas tank I'll be heating it up and molding it for the pumpkin to fit. Shooting for 100" wheelbase, staying with the HP30/8.8 and 35 Krawlers. I want to bump up to beadlocks so I can air down to 6-8 psi easily. I'll be hacking off a lot of the stock mounts and brackets to make beefier units, no steering box move. If I'm not comfortable welding it, it will be done by a pro. Hopefully I'll be good at welding before all of this happens but I won't be putting anyone's lives in danger just to say I welded it. I'm fine with knowing I designed and fabbed everything except the welding if that comes down to it.
I'm gonna find a Warn 8274 off craigslist and fab up a mount for it. OBA will be added sometime. A S & W add on cage will be put on with a couple misc tube added in for some extra beef. I'll be fabbing some new bumpers and sliders before I do anything else in order to get better at welding. I will be making my own tube bender and just buying a die set and using a HF hydraulic ram. Might make my own dimple dies if I can't afford them. Some nice tube fenders will be fabbed for the front with anticipation of the 3" stretch. I'll add on to the Rokmen corner armor with some 3/16" steel plate. The rear tire carrier will be a swing out style but mixed with a stinger. I'll also be adding a oil pan skid to protect the 4.0.
Speaking of welding, I need to find an argon bottle so PM me if you know of one for a good price. I'm still looking for a new place with a garage to work on my rig so progress is almost non-existent. I think that's everything so far. Opinions? Thoughts? Critique? Let me know what you guys think, I'm open to some suggestions and insight.