I no longer have Jeep but, I appreciate the people here, your knowledge of vehicles and the work you do. This isn't a trip report with a Jeep but, maybe you'll appreciate it nonetheless.
My wife and I made friend's for life with an older couple (now well into thier 70's) when we were in college (early 2000's). My wife first met Ron's wife at work and they quickly became friends. She taught my wife to quilt and they've shared that passion since. As their friendship grew, Ron and I slowly got to know each other. When I first met Ron, I had the impression that he's a consummate gentleman. Getting to know him better has only reinforced that feeling. He's also an avid outdoors man. He's and Idahoan; hunting, fishing and the wild isn't just what he likes to do, it runs in his blood. The stories he tells are incredible and he's got more than a few to tell. When he tells a story, you listen.
This is Ron.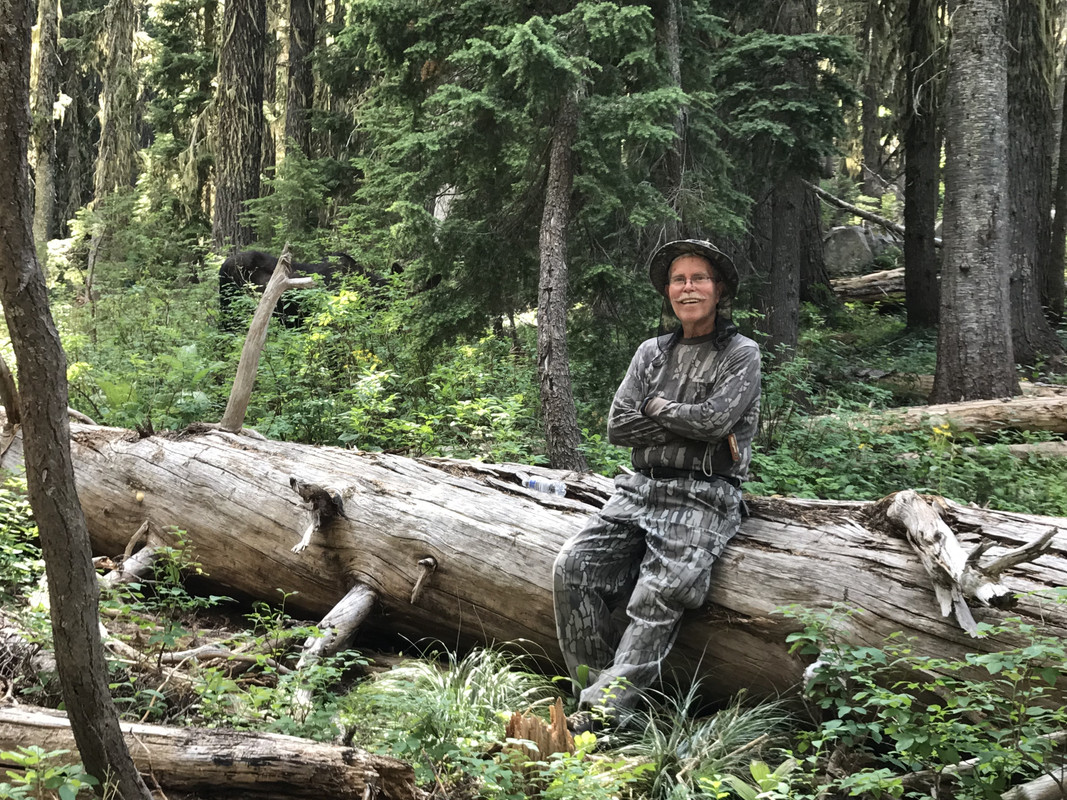 As families, we've been friends for a while. For reasons I now consider unacceptable, Ron and I never did much together. He hiked a WA section of the PCT with my brother and I but, we never did much else. He's one of those genuinely good people that I should have fostered a better relationship with. I graduated school and moved to western WA and the times my family see them has decreased to, maybe, once a year. Recently, Ron mentioned backpacking into his old elk hunting grounds; kind of a last go of it for Ron. He's appreciating he's getting older and the days of packing gear for much distance are starting to set. It was a trip I would make happen. We planned on also taking my 10yo son along for the trip. What a trip it was.
I do a fair bit of shooting, but have never been big game hunting in Idaho. The backpacking I've done has been on well-established trails, where the trail is well-worn and the camp sites are self-evident. On this trip, I was expecting the same. I was in for a surprise. We drove up into the hills, parked and stared walking up an overgrown forest road. At times, there were signs of a "trail." In this story a trail is a slightly distinguishable game trail, an overgrown game trail or complete bushwhacking through nothing that even resembles a trail. The "trail" we took can only be described as Ron's Trail.
On the way in.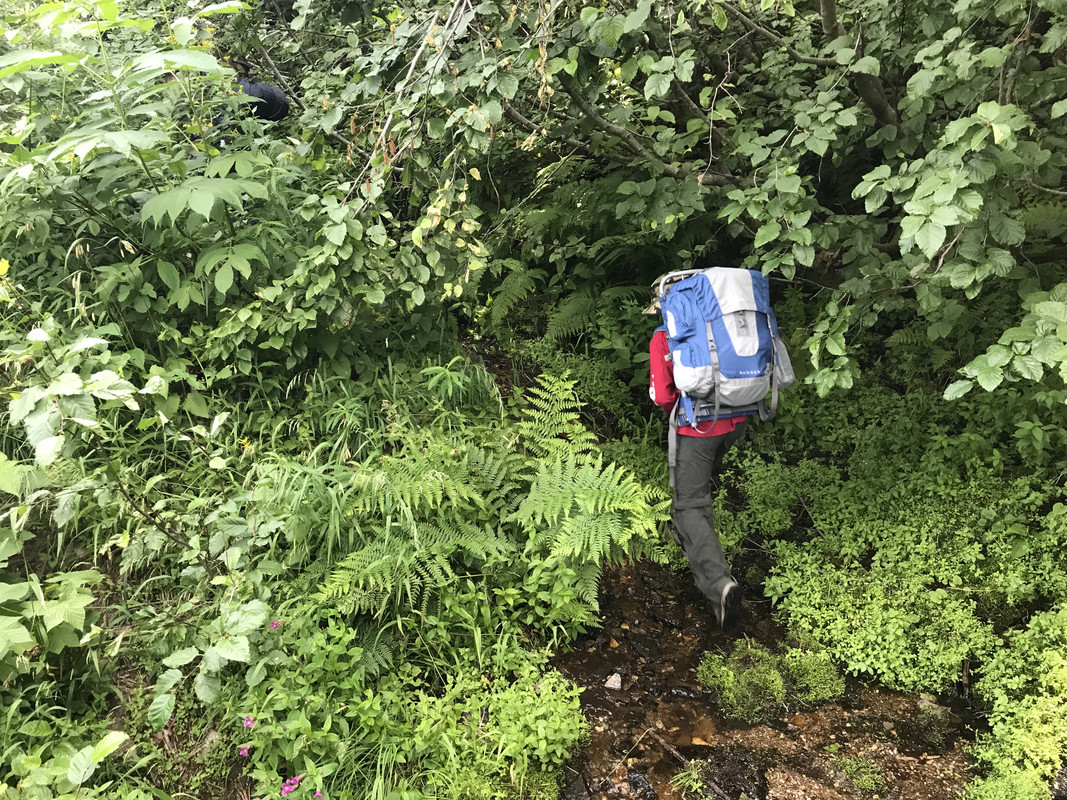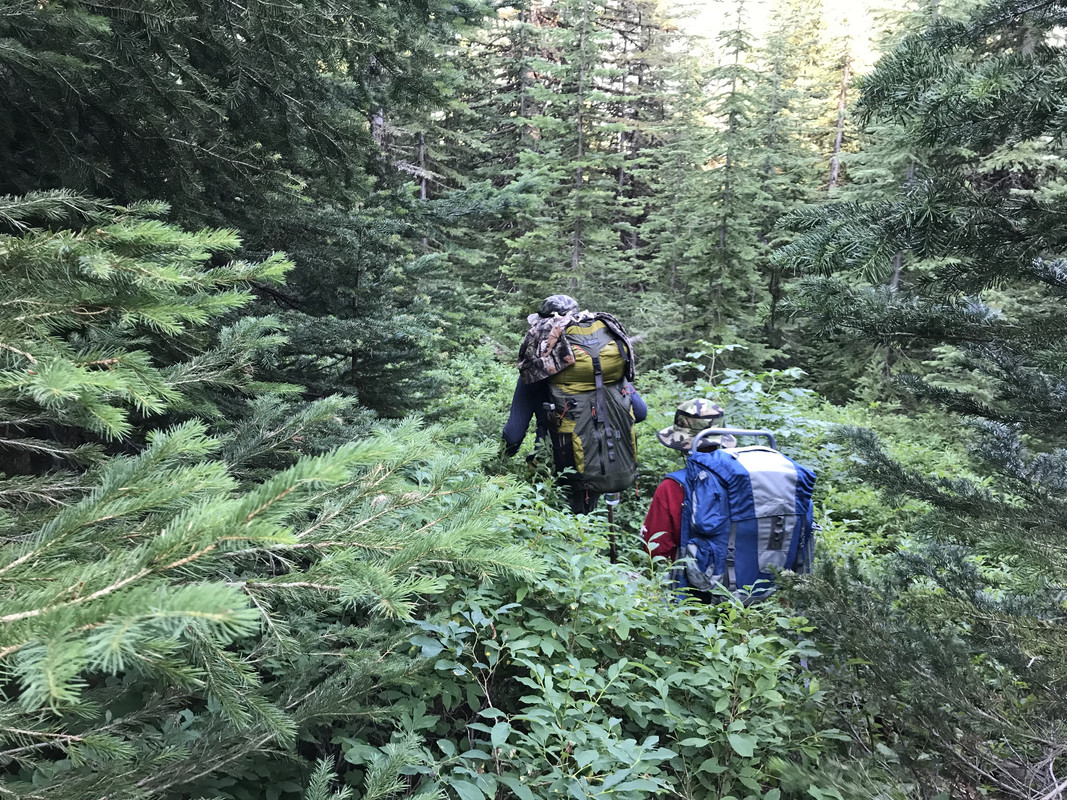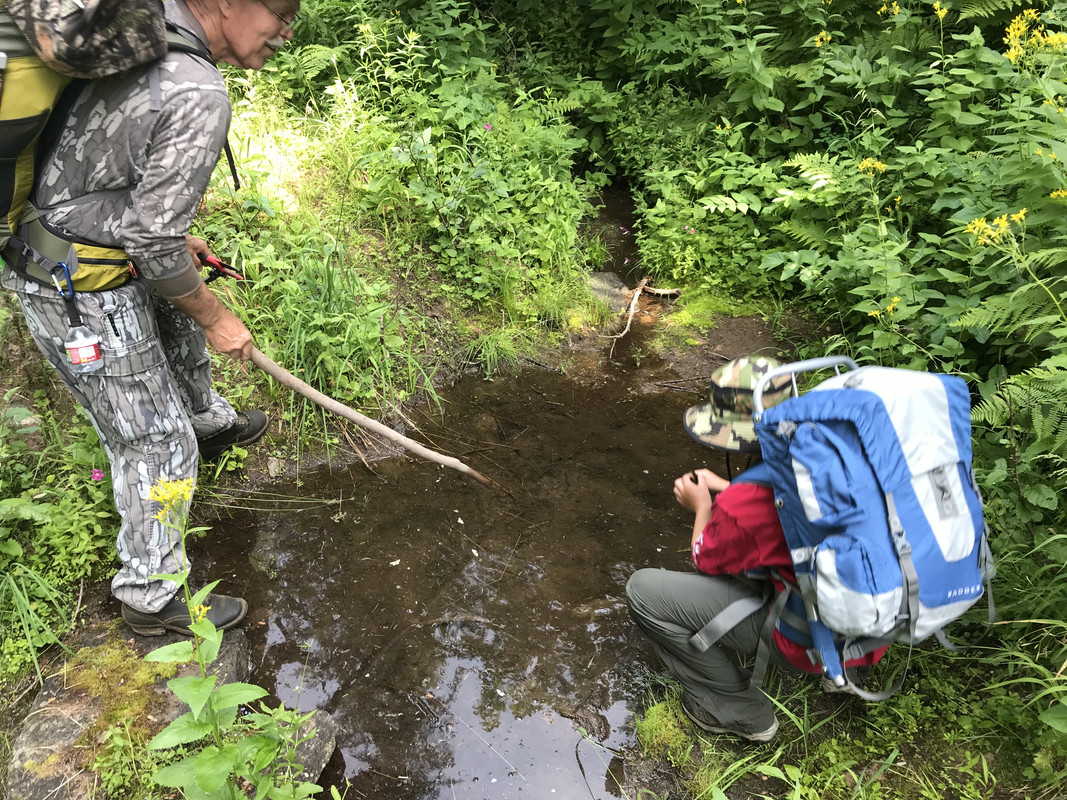 The hike in wasn't long but, it was arduous. Ron was never lost, but there were times he didn't know exactly where he was. We went up and over a wooded peak and came down, thought incredibly thick brush, often over our heads, to a view of our destination: Theriault Lake.

By this time, I had come to the realization that there was going to be no established camp spots. We hiked around the lake and found a suitable spot and made camp.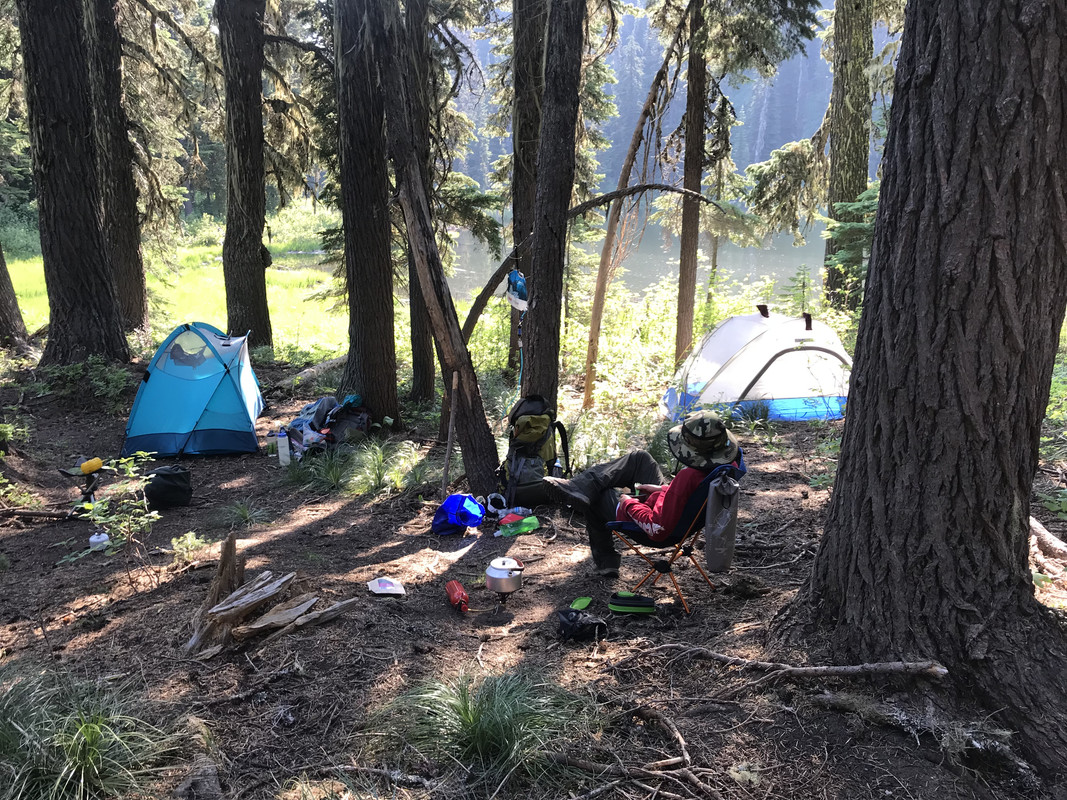 The day started early and after making camp, we had plenty of time to set off for a day hike. We set off following Ron into the brush to sightsee. Again, at times, the brush was above our heads and the going wasn't exactly enjoyable. At one point my son whispered to me, "We're in hiking hell." Later in the trip I'd explain to him the importance of the trip for Ron and we'd both come to appreciate everything about it.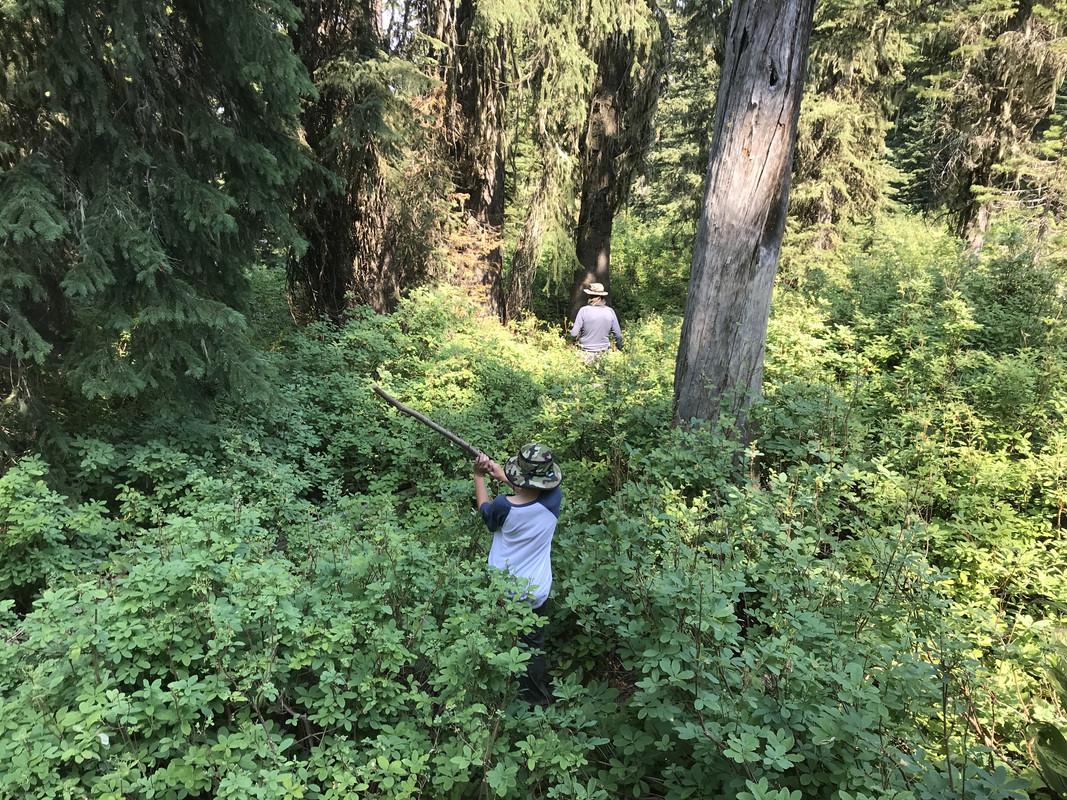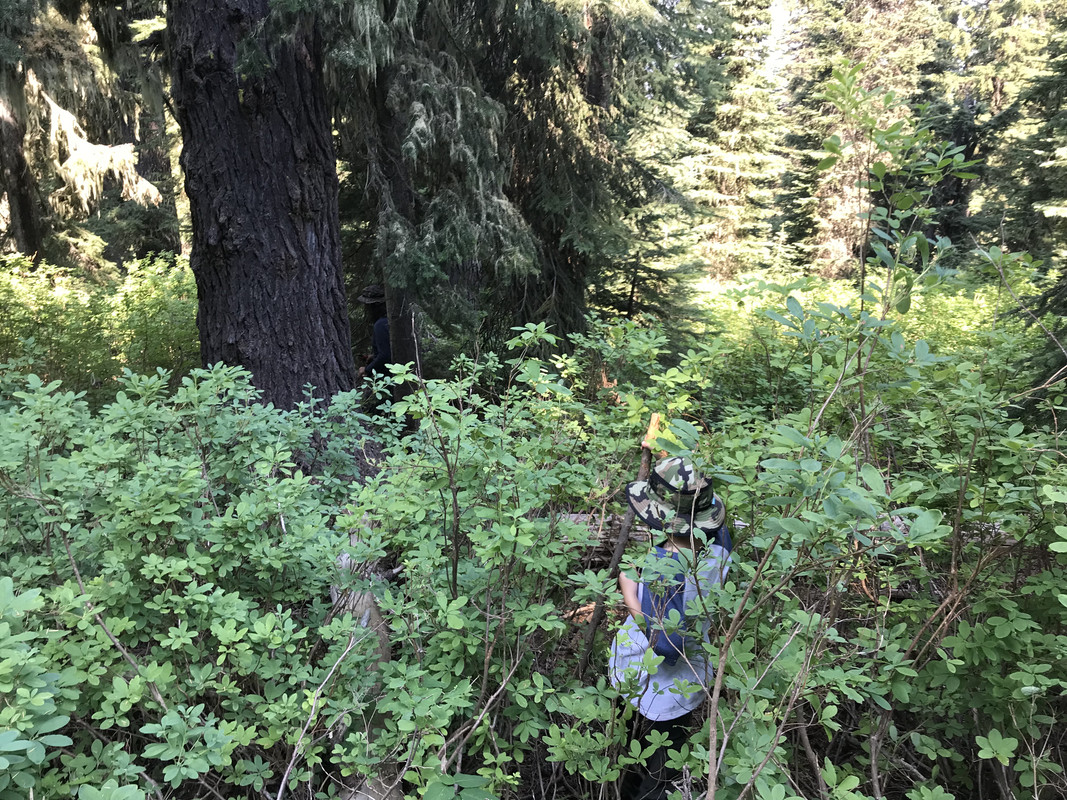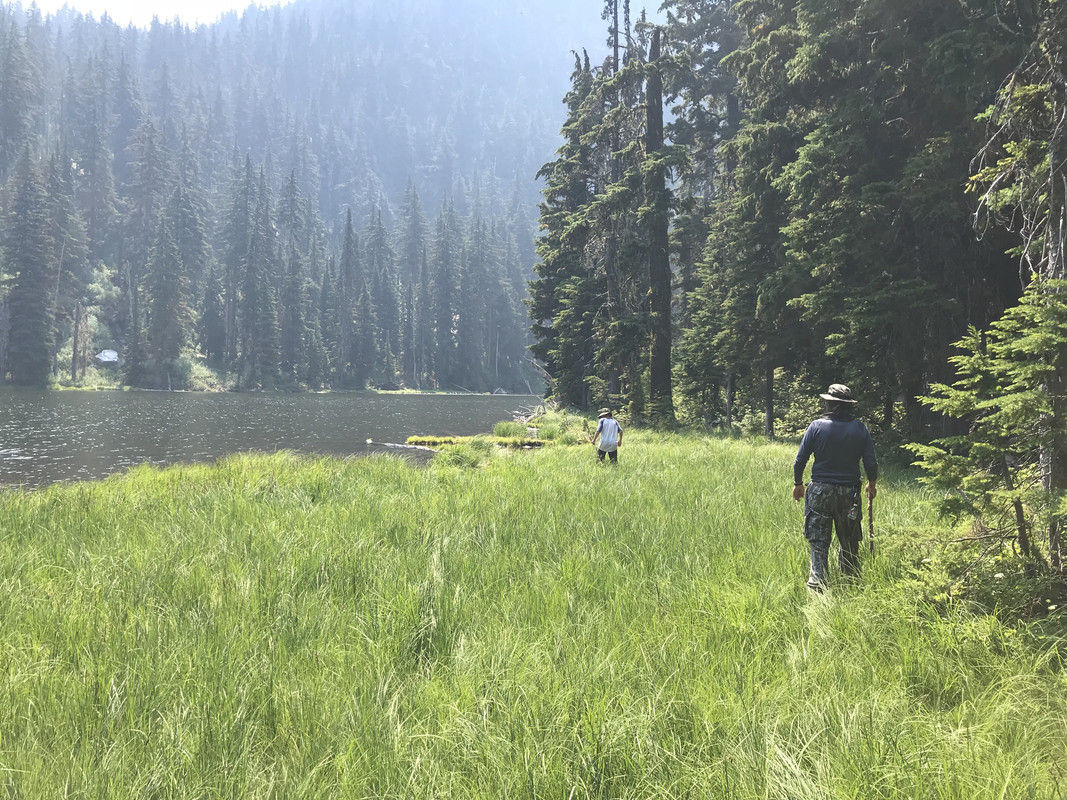 We got back to camp and rested for a bit before a little excitement came our way. We were relaxing when we heard the crashing of brush coming our way. Ron got up and saw a cow moose headed our way with her calf following closely. She stopped just outside our camp and wasn't intent on leaving us be. Throwing sticks, yelling and waving our hands; we did just about everything we could to give her reason to leave. She never took an aggressive posture towards us and had no intention of leaving. After about 20 minutes of trying to get her to leave, Ron said we should just step back let her do what she wants to do. Short of shooting her, there wasn't anything we were going to do to get her to leave. So we stepped back and she stayed in and around camp for the next hour. She was peaceful the entire time. We stayed in the same spot, but at times, she even had us between her and her calf. Ron was completely amazed and that's saying a lot. After checking us out, having a bit to eat and drink, she had decided she had had enough of us and was off.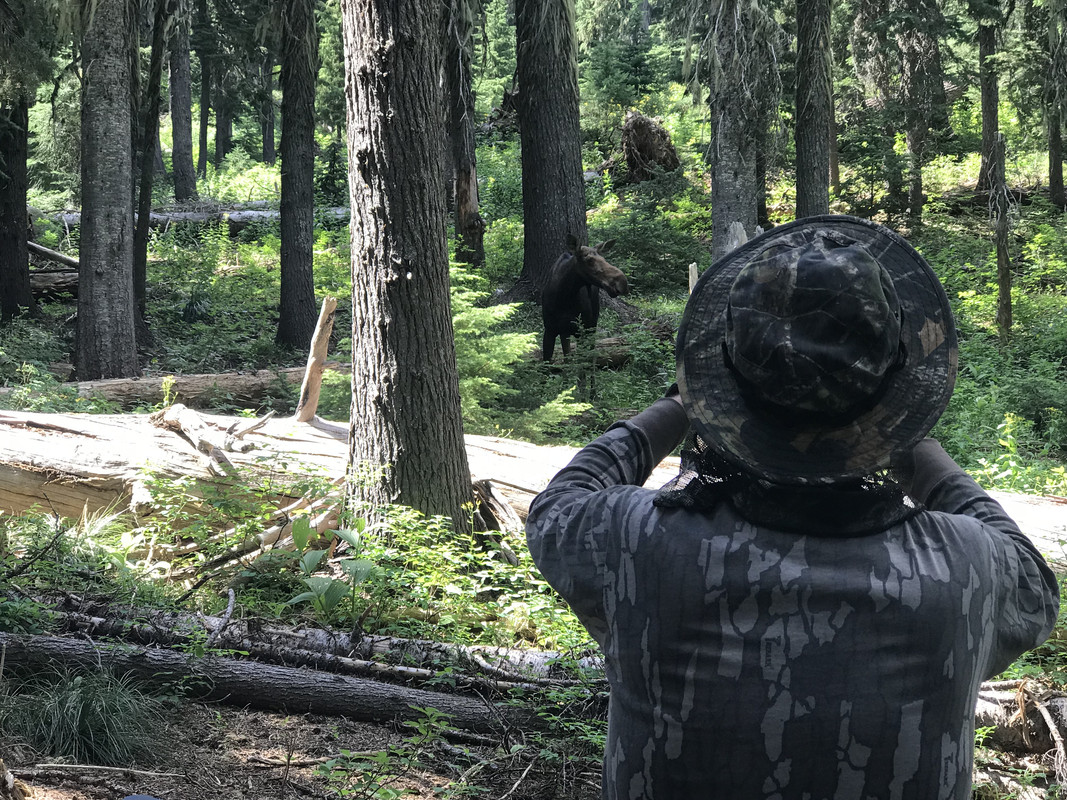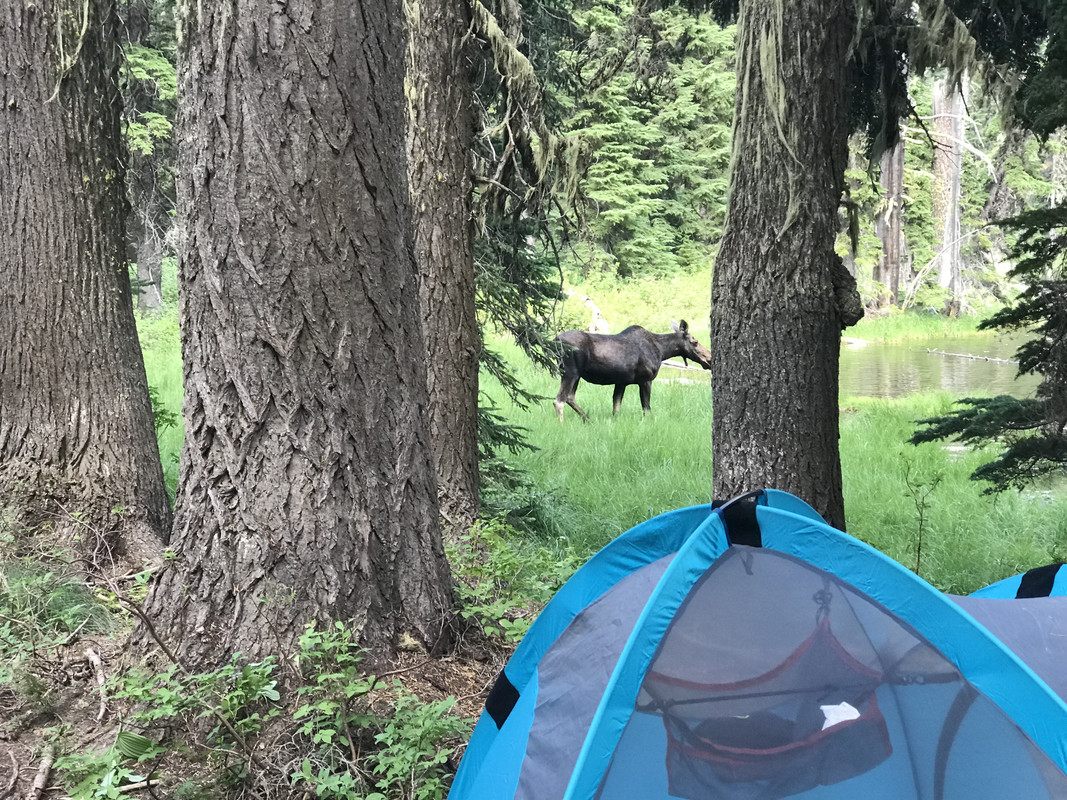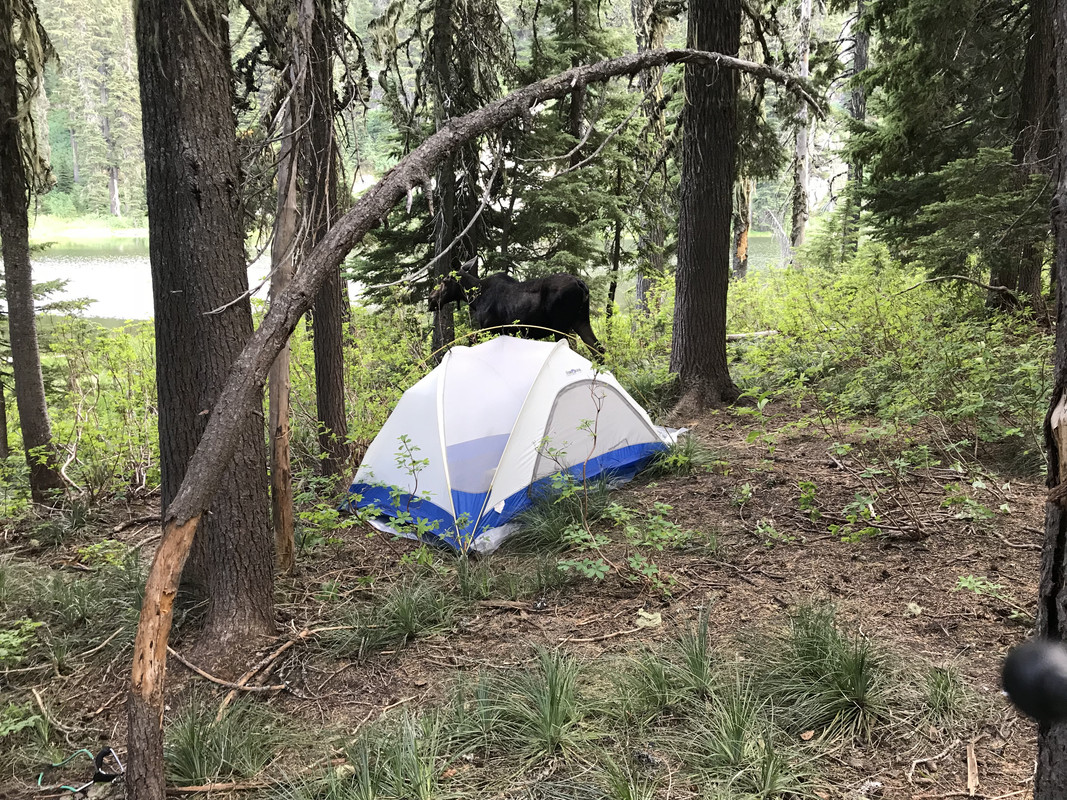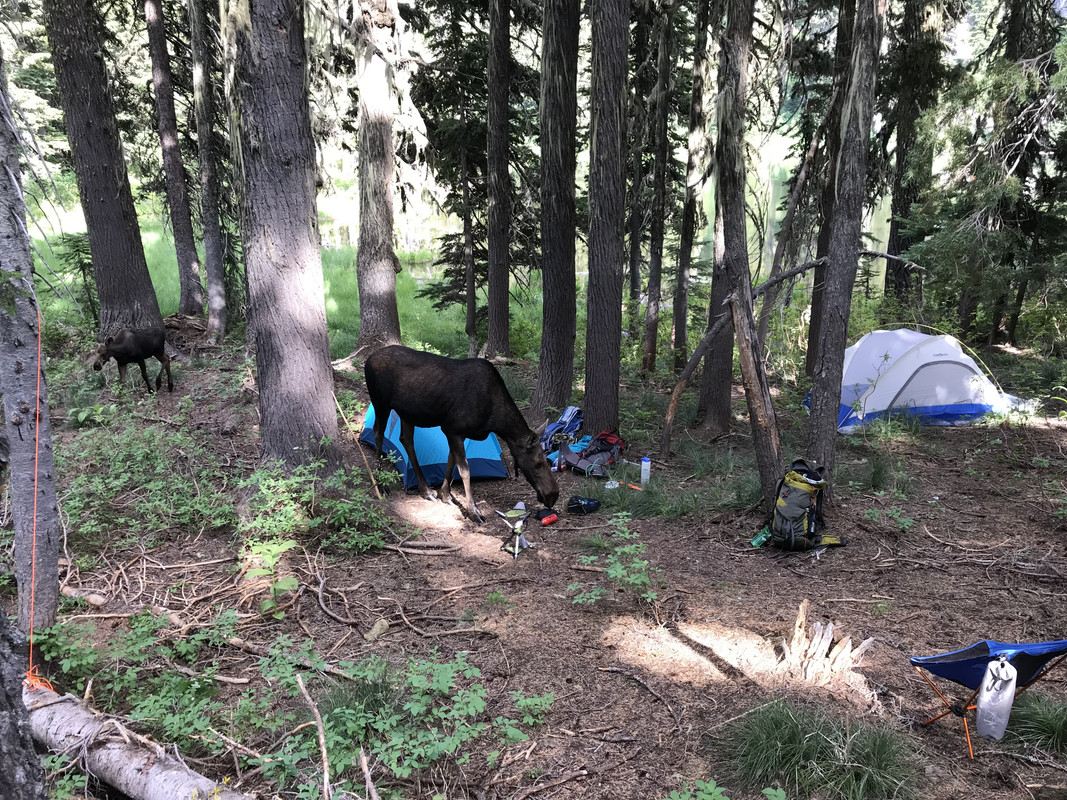 The next day we went for another day hike, this time to some great views. We got back to camp fairly early and the usual camp festivities ensued. My 10yo spent plenty of time hunting frogs and ended up taking the inevitable, accidental dip into the muck.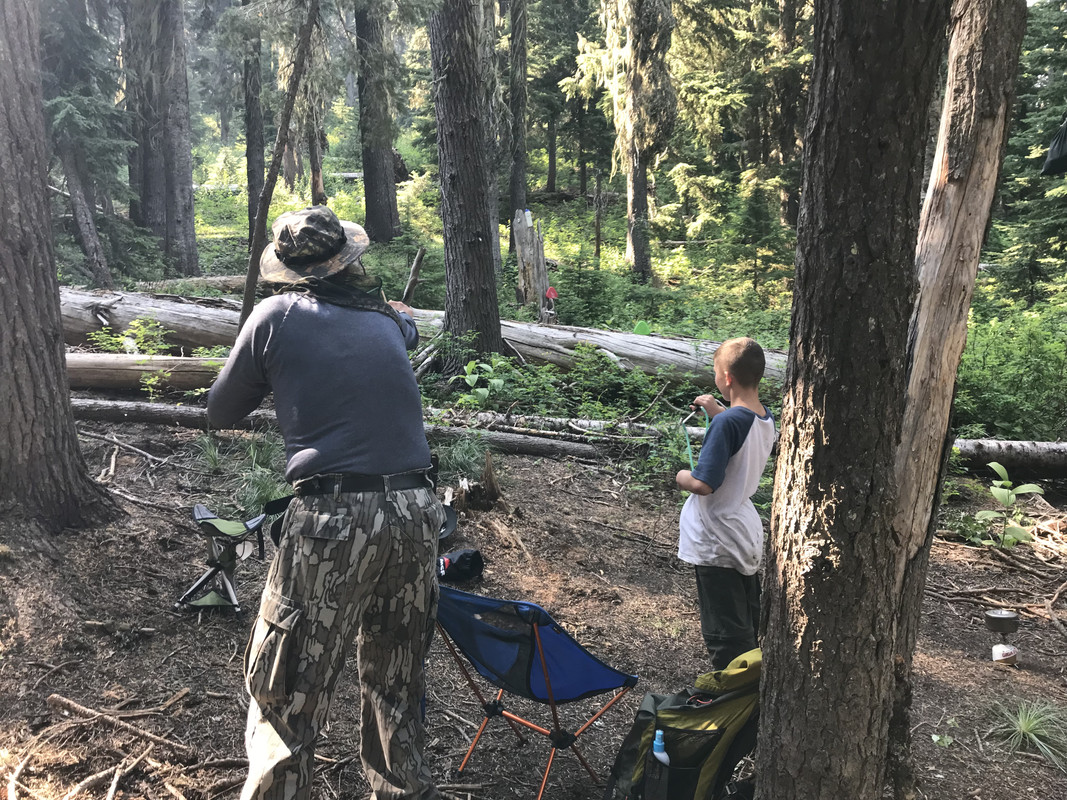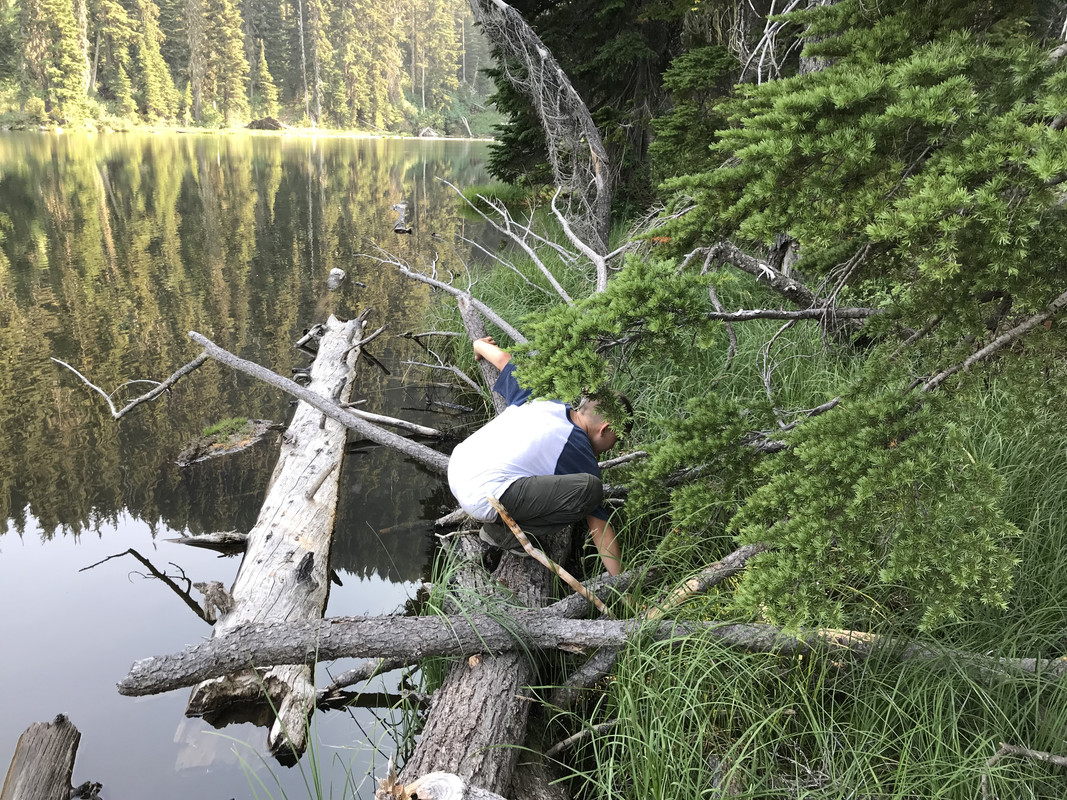 The next day we got up, broke camp and headed out. On the drive out of the hills, we stopped at a great camp spot on Marble Creek.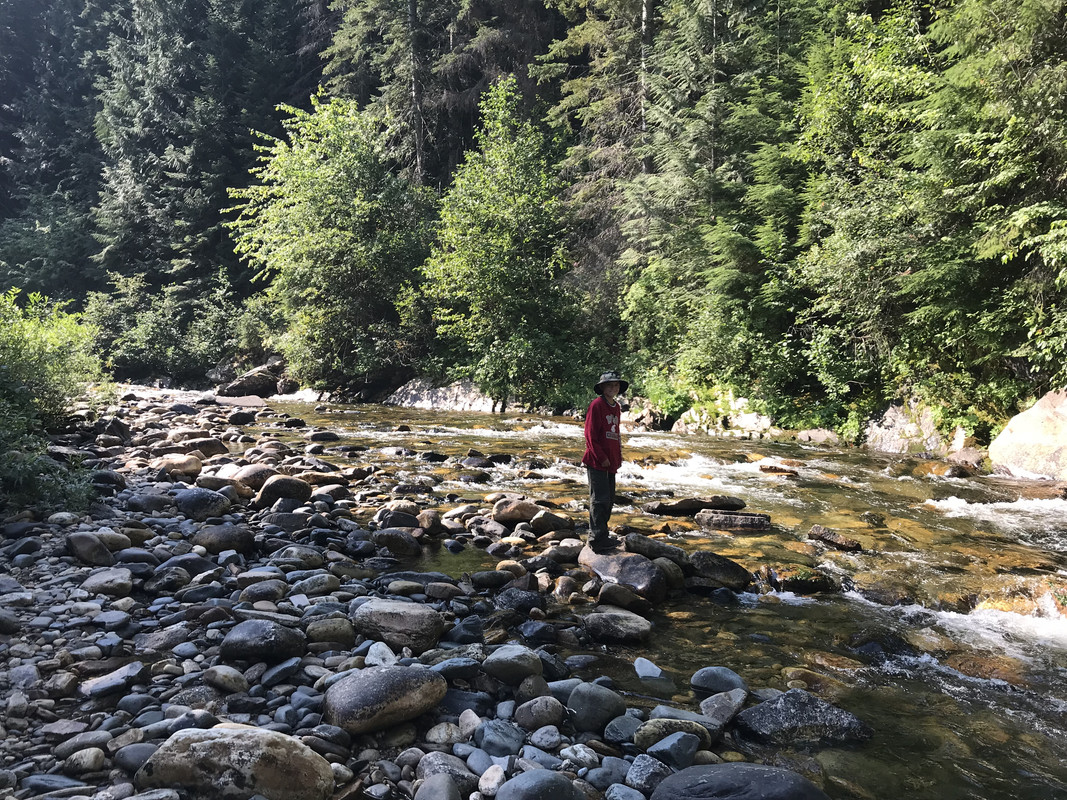 Ron's backpacking days may have set on him, but he still wants to camp. We decided we needed to plan to make camp here with all the amenities and relative easy car/truck camping can afford. Marble Creek trip report to come...
Baller