---
Myself and some friends, 6 rigs total, went to Moab for a week to check out the last couple days of EJS and to do some wheeling. We got to Moab late Thursday night, checked into our house and had just enough time to drink some beer and get our gear unloaded. Friday we walked to the vendor show at the arena, talked to a bunch of manufactures, checked out new stuff and grabbed some swag. Our house was in the neighborhood right next to the arena so it was easy to get beer refills and for bathroom breaks. Later in the afternoon we drove into town to check out the concept jeeps and over to Potato Salad Hill to check out some redneck shenanigans. They didn't disappoint. Right as we pull up there is a full size chev. getting loaded onto a trailer right at the bottom of the hill, some joker tries to go up right next to them and flops over and rolls onto the Chev and the trailer of the truck getting loaded. Dented the shit out of the trailer fender and nearly onto the guy who owned the tow rig. I would have been furious, nope, they hi fived and laughed. Rednecks.......

Saturday was our first wheeling day. We ran Strike Ravine out to Area BFE. I had two goals for this trip 1)to spend some time in Area BFE and 2) to run Pritchett. We followed Strike Ravine to the bottom of Helldorado. A few of us ran through the Gatekeeper, the other two went around and we all made our way up Minor Threat.
The traditional Gatekeeper pose


Jason


Jason got a little too vertical for too long and killed every insect in a 100 mile radius.


Josh


Jeremy


After running up Minor Threat we turned onto Greenday. With the optional lines, Greenday turned out to be a lot of fun. My wife jumped into the drivers seat for one of the obstacles. She did a great job I just didn't quite have her on the right line and she got a little hung up. Ended up having to winch her sideways to get her off the passenger door and to get the passenger front tire out of the hole it was stuck in.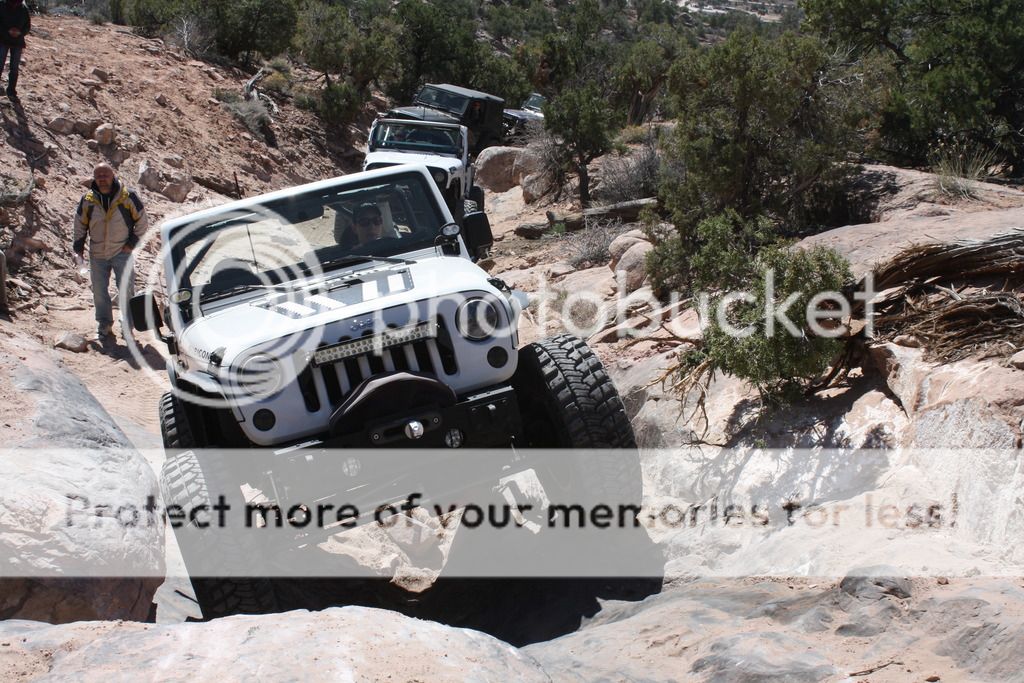 Jeremy showing us the right way up this obstacle.


This was a nasty climb at the top of Greenday. A stare step ledge with sand all over it. Made for good entertainment. We sat here and watched quite a few rigs try after Jeremy showed them how it was done.


Once back to the house. There was a lot of this going on.