Myself, my wife and a few of my friends rented a townhouse in Moab for 6 nights. Jeremy trailered his Jeep down, Jason, Kim and I drove our Jeeps down. We left Saturday morning and drove to Salt Lake City for In-N-Out and to meet up with Jeremy and Tami as they left a day earlier to detour through Oregon. We stayed at a Best Western in town and headed out Sunday morning. We were on the road for about 15 minutes when we see blue and reds in the rear view. Apparently, Jeremy's window tint on the truck is too dark. After a "fix it ticket" we were on the road again. We got into Moab at about 2:00, had some lunch then headed over to the townhouse. Pretty nice place, we were there long enough to remove our gear, tops and doors and we were off to the first trail. Ran Hell's Revenge for a good warm up trail. It was a perfect trail to get warmed up. Lots of optional lines to get your blood flowing. Thinking back though, I wish we would have done it a little later in the trip. I wasn't up for flopping the first day so I didn't try Hells gate or escalader. Kinda bummed about it now but oh well, something to look forward to for next time.
Monday was a no wheeling day. Half the group went paddle boarding in the morning and the other half of us went river rafting. I've never done that before but I had a blast. I definitely want to do some more extreme rapids. After rafting, we did some small repairs and tweeks on the Jeeps, drank lots of beer and played Cards Against Humanity. OMG! That game is :rotflmao2: when you're drunk!!!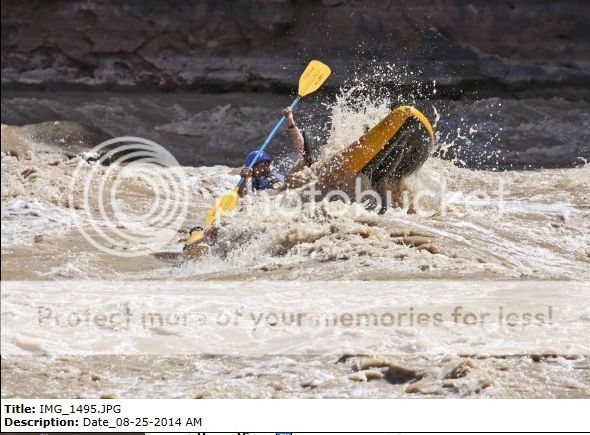 Tuesday was a light day also. We decided to get a lot of the "sight seeing" out of the way. We ran Potash Road, to White Rim trail to check out Mussleman Arch then doubled back to Shafer Switchbacks. After the switchbacks we jumped on Gemini Bridges trail and went to play on the bridges. We wrapped Tuesday up with a delicious Shrimp Boil put on by Jason's wife April.
Wednesday is when the fun began. First trail up was Metal Masher. Fun trail, good optional obstacles. Jeremy tried Rock chucker first, got denied. That's a huge obstacle! Next up he tried Widow Maker. I thought for sure he had it. He crawled right up it but just as the back tires were cresting the front tires ran into another ledge and he sat there for quite some time just spinning all 4. Eventually it took him way right and pinched between a rock and a big ass hill. We put some tension on a winch rope and he was able to drive up from there. Fun obstacle. After Metal Masher we said goodbye to Kim and Steve as they had to leave town that night. Jeremy, Jason and I went over to Rusty Nail. That was a fun trail!! Jeremy didn't have any issues with it but it was a definite challenge for Jason and I in our short 2 doors. Lots of fun, side hill, pucker factor, veritcal climbs, wheel stands oh my! Probably the biggest challenge since I've had my Jeep. After Rusty Nail it runs us upto the Golden Crack so we played there and ran all the fun Golden Spike obstacles and down Gold Bar Rim trail. Fun, Fun day.